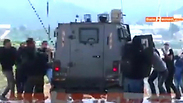 Border police jeep attacked
Footage recorded on Friday shows dozens of Palestinians stoning a Border Police jeep at a service station outside Nabi Saleh in the West Bank.

Palestinians attack a border police jeep in Samaria

One of the police officers was in the driver's seat and another was standing outside the vehicle. A group of young Palestinians approached the Jeep and began throwing rocks at it from extremely close proximity.

The incident was filmed by various cameras, including a security camera. A short while after the attack, they are seen fleeing the scene, with one of the attackers having apparently been injured by riot control measures.

The jeep left the scene soon thereafter. The level of damage incurred on the jeep remains unclear and so is the question of how the Palestinians managed to get so close to it, potentially endangering the lives of the two Border Police officers.

Border Police confirmed the account.