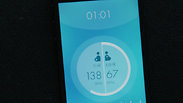 Israeli medical innovations to be presented
A device attached to a diaper alerting you when it's full, an ECG shirt, and a home ultrasound monitoring the baby's heartbeat are just three of the Israeli-developed medical gadgets to be presented at the International Conference MED in ISRAEL, which opens next week
A diaper informing parents when it is time to change it is just one of the Israeli gadgets that will be presented in next week's international conference for medical devices titled MEDinISRAEL, which plays both on the word "medical" and the Israeli pronunciation of "Made in Israel."

The conference is helmed by the Export Institute in cooperation with the Ministry of Economy and Industry as well the Foreign Affairs and Health Ministries, and guests from all over the world are expected to attend.

The device alerting parents when the diaper is full is suitable for both babies and adults. It attaches to the diaper with Velcro, without making contact with fluids or skin, explained Eyal Kabir from Digisense, who developed it.

"We can be alerted if there is fluid, the amount and the color, and it can help caregivers know, for example, if the baby is suffering from dehydration or a nutritional deficiency."

The system includes an application, which is installed on your phone and allows the caregiver or the parent to store information and receive real-time alerts. In addition, the sensors can detect whether the baby is sleeping on its back or stomach, if, God forbid, there is apnea, and even if the child is flatulent.

Another device to be presented in the exhibition is a home ultrasound monitor called Compass. The device, weighing only 300 grams, enables self-examination of the fetus' heartbeat anywhere, at anytime.

The device was approved by the British Standards Institute, and is able to provide an accurate reading of the fetus's pulse as well as the mother's pulse in a few minutes. The information is automatically transmitted to your phone application, which can be then transferred to the attending physician.

"The idea came to me on the birth of my third son," said HerMED CEO Dudi Groberman, the company that developed the product.

"One day, my wife was concerned she couldn't feel the fetus, and after a long night in the hospital, I decided to develop a product that will cater to such events."

The company believes that in the future, the data would be fed into a computer at the clinic which would save time on waiting for the medical examination.

Another product is a polo shirt that monitors medical parameters such as ECG, heart rate and breathing and allows measuring them at home.

"We considered a shirt in which the ECG electrodes are placed in advance and then you would only have to wear it," said Limor Nuri from Health Watch, the company that developed the product. "The shirt is intended for people who have been diagnosed as suffering from heart disease or are at risk."

"The number of companies dealing in medical devices in Israel is unusually high by international standards," said Export Institute Chairman Ramzi Gabbay. "The technologies of Israeli companies are deeply rooted in the academic institutions and are used in the best medical centers in the world."