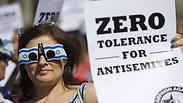 Protest against anti-Semitism in London
Photo: AFP
The non-Jewish students who fight BDS
As Apartheid Week rages in campuses around the world, there are students on UK campuses with no ties to Israel or Judaism who choose to fight for Israel. They talk about the accusations hurled at them ('You're Nazis'), the difficulty posed by pro-Palestinian groups disrupting pro-Israel events, and why they're defending Israel.
Israel's diplomats are working hard this month as events of the BDS Movement's Apartheid Week take place in different places around the globe. These events, which began on February 28 and will continue through April 10, paint Israel in a negative light and expose tens of thousands of students to the boycott campaign and pro-Palestinian organizations that are operating on different campuses.

The discussions are mostly one-sided: Israel is hardly ever represented by anyone, and the pro-Palestinian organizations enjoy a monopoly in the battle for public opinion.

Over the last few years, anti-Semitic groups have also made it onto campuses under the Apartheid Week guise, with swastikas and comparisons of Israel to the Nazi regime becoming commonplace.

But there has been an awakening over the past two years on several campuses in Britain, where students and activists started fighting for Israel's image. They're not only trying to balance the negative image of Israel painted by the boycott organizations, but they're also organizing events and activities to present a different side of Israel.

The most surprising thing about these initiatives, though, is that many of the students at the forefront of Israel's battle against Apartheid Week are not Israeli, nor even Jewish.
'You support war crimes'
Khulan Davajab is one of them. She's 21, one her first year studying Hebrew and International Relations at SOAS University of London, which specializes in Asia, Africa and the Near and Middle East. SOAS is considered one of the more prestigious schools at the University of London, but its campus is also considered one of the most anti-Israeli in Britain—a stronghold of the boycott movement.

Davajab was born in Mongolia, moved with her mother to the Czech Republic and arrived in London three years ago. Her affiliation to Israel started by chance.

"When I was 13, a friend of mine read a book about the persecution of Jews during the Spanish Inquisition and recommended it to me," she says. "I started developing an interest in Judaism and in the history of the Jewish people, and I noticed Israel was getting a very negative and unfair treatment in the world. I started writing a blog about Israel, won a prize in an essay content about Israel, and went to visit it. I finally saw the country with my own eyes and realized the way in which Israel is being portrayed in the media was unfair and doesn't truly reflect it."

Last year, Davajab decided to study international relations and Hebrew, though even Hebrew studies failed to provide her with a refuge in the hostile academic institution.

"On the first week of school, when I told people I was studying Hebrew, one of them lecturers asked me 'Why are you studying Hebrew? So you could read the Israeli propaganda?'" she recounts.

"During lessons, the lecturers tell the students that Israeli prison guards sexually abuse Palestinian prisoners. They present Israel as Satan and say that Iran needs a nuclear bomb so it could deal with Israel's aggression. When I try to balance the scale, I'm told 'You're supporting war crimes.'"

And how do the students react to such things?

"The students agree with the lecturers. I feel a lot of hostility when I express my opinion. My only friends on campus are Jews. Even the Israeli students on campus hide where they're from, lying and saying they were from France or the US. When I enter a classroom, I often hear whispering, 'There, the Zionist is here.'

"We had an event for Israel recently and pro-Palestinian activists attacked me and my friends, stole my phone and snatched my purse. It almost deteriorated to physical violence."

But Davajab didn't let the pro-Palestinian activists discourage her. Several months ago, she joined a leadership program through StandWithUs, a non-profit organization working to improve Israel's image in campuses around the world. The organization's leadership program was launched this year, training 35 young leaders—several of them not Jewish—in campuses across Britain using seminars, lectures and workshops providing practical tools to aid them in organizing pro-Israel activities on campuses.

Tamir Oren, StandWithUs's representative in London, arrived in the UK several months ago and saw the massive campaign against Israel.

"The resistance hasn't been anti-Israeli in a long time," he explains. "We see a situation on campuses in which Jewish students experience anti-Semitism and are afraid of wearing a kippah. Other students bemoan the fact that pro-Palestinian organizations disrupt pro-Israel events, and there are quite a few incidents where swastikas have been drawn on walls."

But Oren and his organization also see some encouraging signs. "This week, during the Apartheid Week events, our students held the 'Shabbat Shalom' event meant to show the beautiful side of Israel," he says. "Another student led a delegation of entrepreneurs to Israel. We're starting a dialogue in places where until recently no one agreed to even listen to the Israeli side."
'Dialogue instead of boycott'
Davajab also started organizing pro-Israel events on campus. "We brought a delegation of activists from the Yesh Atid party and they spoke to students here," she says. "We also brought a delegation of students from the Hebrew University to present the reality in Israel rather than the lies and distortions. We received a lot of good feedback. So far, everyone was exposed to one narrative of the Israeli-Palestinian conflict, and suddenly they get to hear the other side. Students tell me these lectures opened their minds, and that they no longer thought Israelis were murdering Palestinians in cold blood. They now see there's another side to the conflict. The program gave me tools, but more than that, it helped me feel I wasn't alone; that there were students like me at other universities."

One of those students is Jonathan Farrell, 22, a BA student for international relations and Arabic at the University of Exeter. He grew up in Buckinghamshire, far from any major Jewish community.

"I had no clue about the Israeli-Palestinian conflict, but I knew Israel was a tolerant place in a sea of intolerance," he says.




When he began his studies, he joined a Friends of Israel group on campus. "Ironically, there was a Jewish organization at the university, but when we tried to recruit them for pro-Israel activities, they said they were an a-political organization and refused. So we started our own group," he says.

Over the past three years, he and his friends have been organizing pro-Israel activities and events on different campuses. One of the more successful ventures was when they invited a profession of history and theology who told the students about the Jewish people's millennia-old connection to the Land of Israel.

"A lot of students said they had no idea that Jews had lived in Israel in the past. Until then, all they heard was that Zionism was a racist movement and that the white Jews invaded Israel without having any ties to the place," Farrell says.

During Apartheid Week, Farrell and his friends held Israel Peace Week, which promotes love instead of hate, dialogue instead of boycott.

"We're holding a fair with food tastings, lectures, discussions and other activities," he says. "This is how we explain that the only way to make peace is through dialogue, not boycotts."

Do you feel a change in the attitude towards Israel on campus?

"I can't say that there's a lot of support for Israel, but I definitely see more balance and hesitancy. The students who used to just eat up what they were being told are now asking questions. The conversations are no longer one-sided. We are able to help students see the problematic nature of the Palestinians. Even the Palestinians on campus were surprised by us. They lost the one-sided control on campus that they had taken for granted. Every time they hold an event against Israel—we'll be there with leaflets, signs and Israeli flags."

Joe Sigolo, 19, an international relations student at Queen Mary University of London, started supporting Israel after Operation Protective Edge in the summer of 2014.

"I started studying the situation, in contrary to the distorted and negative way in which Israel is being described in the media. I was shocked because people in London—including Jews—presented Israel in such a negative manner. I noticed activists were using the anti-Zionist stance as a cover for ugly anti-Semitic views and decided to show the Israeli side of the story.

"When I first arrived at the university, the situation on campus was terrible. You couldn't even mention the name Israel, or hint that you were in favor of Israel. I kept being attacked. When one of the professors said Gaza was a giant prison, I mumbled to myself 'That's not true,' and the student sitting next to me told me 'These are dirty Jews and you have blood on your hands.' He yelled at me, 'I won't sit next to you' and left."

But Sigolo wasn't discouraged either. "Education is the way to peace, and if we want to have a chance of peace, we have to give people information," he says. The narrative on campus "is that Israel is (sterilizing) Ethiopian women because they're black, and you have to fight these made-up stories. The pro-Palestinian organizations are trying to sabotage our activity, and my job is to give people correct information."

StandWithUs representative Tamir Oren says that while non-Jewish students taking part in pro-Israel activity is impressive, they often have to pay a price. "They have to give up on friends, parties and leisure time to defend Israel," he says.

What about the Israeli government?

"We don't receive government support, among other reasons so we don't get accused of being a government branch spreading propaganda. The special thing about our program is that it gives students a platform to tell the Israeli story through their own eyes. No official body can match their levels of familiarity and credibility."