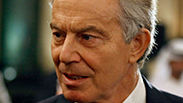 UK media are reporting that former British Prime Minister and Quartet envoy to the Middle East, Tony Blair, is seeking to return to the area under the administration of US President Donald Trump.

According to the Daily Mail, for the third time since September, Blair held a secret meeting with Trump's son-in-law and senior advisor, Jared Kushner.

Blair met with Kushner for the first time in September during a meeting for media officials and politicians in the US. Their second meeting occurred several days after Trump's election victory in November and their third meeting was held March 1st at the White House.

The two reportedly discussed cooperation and the possibility for Blair to function as a representative of Trump to advance peace in the region, which Trump referred to as "the ultimate deal."

If Blair indeed does assume the position, it would be an opportunity for the former prime minister, who was criticized for involving Britain in the Iraq War alongside the United States.

Blair could also be seen as a wise choice by Trump, whose administration lacks officials with significant diplomatic experience, especially in the Middle East.