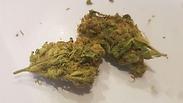 Marijuana
Photo: Assaf Kamar
The cabinet voted on Sunday in favor of decriminalizing recreational marijuana use, joining some US states and European countries who have adopted a similar approach.

The proposal was submitted by Minister for Public Security Gilad Erdan and Minister of Justice Ayelet Shaked.

Erdan called the government vote "an important step towards creating new policy that will emphasize explaining (the dangers of drug use) and treatment instead of prosecution."

The vote followed the recommendations of a committee, nominated by Erdan, to impose fines on individuals caught possessing cannabis.

According to the new policy, people caught smoking marijuana would be fined rather than arrested and prosecuted. Criminal procedures would be launched only against those caught repeatedly with the drug.

An inter-ministerial committee will now draft new legislation to implement the new policy, which still must be ratified by the Knesset, a process that will likely take months.

Selling and growing marijuana would remain criminal offenses.

"On the one hand we are opening ourselves up to the future. On the other hand, we understand the dangers and will try to balance the two," Prime Minister Benjamin Netanyahu told his cabinet in broadcast remarks.

"Israel cannot shut its eyes to the changes being made across the world in respect to marijuana consumption and its effects," Justice Minister Ayelet Shaked said in a statement.

In the United States, 28 states have legalized marijuana for medical use and since 2012, several have also approved marijuana for recreational use.

Shaked said Israeli authorities would now put their focus on education about the possible harmful effects of drug use.

Marijuana use is fairly common in Israel. The United Nations Office on Drugs and Crime has said that almost nine percent of Israelis use cannabis, though some Israeli experts believe the numbers are higher.

Israeli police figures showed only 188 people were arrested in 2015 for recreational use of marijuana, a 56 percent drop since 2010, and many of those apprehended in that time were never charged.

About 25,000 people have a license to use the drug for medicinal purposes in Israel, one of the world leaders in medical marijuana research.

Saul Kaye, founder and CEO of iCan: Israel-Cannabis, said the move would benefit entrepreneurship and investment in cannabis in Israel and create jobs.

Andrew Friedman/TPS contributed to this report.