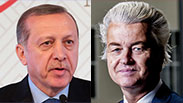 Erdoğan and Wilders
Photo: MCT
Turkish President Tayyip Erdoğan said on Sunday that German actions in stopping political meetings of resident Turks "were no different to those of the Nazi period." In response to his accusations, Dutch nationalist Geert Wilders said on Sunday that he would ban Turkish officials from campaigning in the Netherlands.
German authorities withdrew permission for two meetings in German cities last week that were part of a government campaign to win the 1.5 million-strong Turkish community's support for sweeping new powers for Erdoğan going to referendum in April.
"Germany, you have no relation whatsoever to democracy and you should know that your current actions are no different to those of Nazi period. When we say that, they get disturbed. Why are you disturbed?" he said at a rally in Istanbul.
On Friday, the Dutch government said plans by Turkish authorities to hold a referendum campaign rally in Rotterdam, were "undesirable," but stopped short of trying to prevent them.
Wilders told journalists in Amsterdam the response by Dutch Prime Minister Mark Rutte was "very weak. I would do things differently."
"I would declare... the whole Cabinet of Turkey persona non grata," Wilders said. He called Turkish President Erdoğan an "Islamofascist," saying that he opposed his efforts to change the constitution in Turkey to strengthen his position.
The Turkish referendum in April would grant Erdoğan sweeping new powers, including the ability to appoint ministers and top state officials and dissolve parliament, declare emergency rule and issue decrees.
Wilders's Party for Freedom, campaigning to close the Dutch border to Muslim immigrants and shut mosques, is virtually tied with Rutte's conservative VVD party ahead of the general election on March 15.