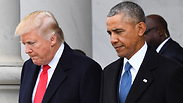 Trump and Obama
Photo: Reuters
White House demands probe into Trump wire taps allegations
Following US President Donald Trump's series of tweets, accusing former president Barack Obama of wire tapping his phones prior to the elections, the White House requests that Congress look into allgations to see whether there was an abuse of executive powers; both Obama and former dir. of US national intelligence deny Trump's claim.
The White House says it wants the congressional committees that are investigating Russian interference in last year's US presidential election to also examine whether "executive branch investigative powers" were abused in 2016.

The request refers to President Donald Trump's claim in a series of Saturday tweets that former president Barack Obama had his phone lines at Trump Tower wiretapped ahortly before Trump's surprising win.

"Terrible! Just found out that Obama had my 'wires tapped' in Trump Tower just before the victory. Nothing found. This is McCarthyism!" Trump initially wrote on Twitter last Saturday. he later added, "Is it legal for a sitting President to be "wire tapping" a race for president prior to an election? Turned down by court earlier. A NEW LOW.

"I'd bet a good lawyer could make a great case out of the fact that President Obama was tapping my phones in October, just prior to Election!" continued Trump. "How low has President Obama gone to tapp my phones during the very sacred election process. This is Nixon/Watergate. Bad (or sick) guy!" continued Trump, with a third tweet on the subject.

Obama spokesman Kevin Lewis rejected Trump's claims. "Neither President Obama nor any White House official ever ordered surveillance on any US citizen. Any suggestion otherwise is simply false."

Additionally, former director of national intelligence under Obama, James Clapper, denied Trump's surveillance claim.

"There was no such wiretap activity mounted against the president, the president-elect at the time, as a candidate or against his campaign," Clapper told NBC's Meet the Press. He added that as intelligence director, he would have known about the existence of a "FISA court order on something like this. Absolutely, I can deny it."

Trump, for his part, has offered no evidence or details to support his claim.

White House Press Secretary Sean Spicer says there'll be no further White House comment until the committees conclude their work.