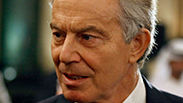 Tony Blair will not assume the role of Middle East representative for US President Donald Trump, according to a report by the BBC.

The rebuttal followed an earlier report on Sunday published by the Daily Mail claiming that former British prime minister Blair is seeking to attain the Middle East position under the new Trump administration.

In response, Blair's office issued a statement claiming the story was an "invention."

In an interview to the BBC, Blair's spokesman said that "He has been working on the peace process for 10 years. He continues to do so. He does so in a private capacity. He will continue to do it in that way. Period."