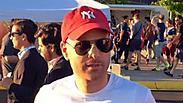 Sharon Ben Haim, the gett refuser
High Court, rabbinical court decide to expose gett refuser
After agreeing and then refusing his wife a traditional Jewish divorce, the High Court stands with the rabbinical court that decided to publish the photo and details of Sharon Ben Haim, in an effort to get him to finally release his wife from marriage.
The Haifa Rabbinical Court has published the details and photo of divorce-refuser Sharon Ben Haim.

The publishing came after Ben Haim petitioned to the High Court to stop the Rabbinical Court from publishing his details and photos and imposing religious and social sanctions on him. His petition was denied.

Ben Haim has denied his wife, who lives in New Jersey, a divorce for the past seven years. The two married in 2008. They lived in the United States, where their daughter was born.

But their relationship ran into difficulties when, according to his estranged wife, Ben Haim and used verbal violence against her, humiliated her and her family and even demanded her to report to him on every financial decision she makes.

Attorney Tal Itkin, who is representing the wife in Israel, said that during a joint visit to Israel in 2010, the wife petitioned for a gett (a traditional Jewish divorce). Ben Haim originally agreed and even signed the gett, but did not hand it over due to a disagreement over a stay of exit order issued against him. Eventually, the stay expired, at which point he fled the country.

Since then, and despite consistent efforts by the rabbinical court, Ben Haim has refused to grant his wife a gett that would release her from the marriage. In 2012, a rabbinical court declared him to be a felon, informing Jewish communities around the world of this and calling on them to enact several sanctions. Among them are excluding him from prayer minyans and not allowing him to be buried in a Jewish cemetery.

A representative of Ben Haim appealed the rabbinical court's decision, claiming that he is willing to grant a gett, but that he is afraid to return to Israel to do so, for fear that he will be arrested. After the rabbinical court rejected his appeal, he petitioned the High Court, which also rejected his case.

Justice Elyakim Rubinstein, who was a member of the seven-judge panel presiding over the case, drafted the High Court's decision. "When dealing with such a case, where there is a husband who refuses to grant his wife a gett and who does not obey court decisions pertaining to himself, it is hard to find fault in court decisions that find merit in making this fact public, as the law allows them to do," read the decision.

Regarding Ben Haim's claim, that publishing his photos and details amounts to shaming, Rubinstein wrote that "A substantial part of the problematic nature of the shaming phenomenon seen on social media is derived from the fact that this is done impulsively, occasionally based on hearsay alone, with the individual's reputation damaged through no fault of their own and at times irreparably. This is not the case when the facts are clarified, as was done in the present case, and when it is treated as a last resort."