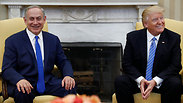 Netanyahu and Trump
Photo: AP
PM investigation interrupted by call from President Trump
Netanyahu apologized to investigators, who were in the middle of questioning him over an ongoing probe against him, for having to excuse himself after receiving a phone call from Trump to discuss the increasing dangers of Iranian aggression: 'The two leaders spoke at length about...the need to work together to counter those dangers.'
Prime Minister Benjamin Netanyahu received a telephone call from US President Donald Trump at the Prime Minister's Office Monday evening, while in the middle of being questioned as part of an ongoing investigation against him.

Netanyahu apologized to his investigators for having to abruptly leave the room and take the call, during which the two leaders discussed for several minutes the dangers emanating from the Iran nuclear deal signed under Barack Obama's leadership and Tehran's aggressive posturing in the region.

The PMO issued a statement after the conclusion of the investigation about the phone call. "The Prime Minister took the opportunity to again thank the President for his warm hospitality during his recent visit to Washington and expressed his appreciation for the President's strong statement against anti-Semitism during the President's speech before Congress last week," the statement read.

"The two leaders spoke at length about the dangers posed by the nuclear deal with Iran and by Iran's malevolent behavior in the region and about the need to work together to counter those dangers," it continued.

A White House spokesperson confirmed that Iran and regional threats were the subjects of the phone conversation and added that the prime minister thanked Trump for his steadfast stance against anti-Semitism.

Netanyahu's associates claim that while the call was not planned in advance, past experiences have taught that telephone calls of such a kind are not made as a surprise, causing some to wonder as to the the precise timing of the telephone conversation.

President Trump has already signalled his intention to take a tougher stance on Iran, particularly given its recent testing of ballistic missiles.

In September 2016, a US Navy coastal patrol ship changed course after a fast-attack craft from Iran's Islamic Revolutionary Guard Corps came within 100 yards of it in the central Gulf.

More recently, the Trump administration interpreted Iran's launching of naval drills at the mouth of the Gulf and the Indian Ocean as yet another example of flaunting its aggression, despite President Trump recently warning that Tehran was "on notice."

Eli Senyor, Benjamin Tobias and Itamar Eichner contributed to this article.