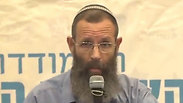 Yigal Levinstein is in hot water again for making disparaging remarks about women in combat positions in the IDF.

Levinstein made his remarks while speaking at the Bnei David pre-army preparatory yeshiva in Eli.

In addressing female combat soldiers in the IDF, Levinstein wondered aloud, "Who would agree to marry them?" and cast aspersions on their femininity.

Levinstein focused his comments on the issue of drafting young women who have completed their religious education, which has worried many conservative rabbis.

"Our women are holy and modest," said Levinstein to the students. "Does that mean they can't work? Let her work in whatever she wants. But what is her mission? In the Talmud: to build the next generation. It is imposed upon them. Only our holy women know how to do this. What is she going to be? A platoon commander? It's a question of madness and it belongs in an insane asylum."

Levinstein continued, saying, "Forget the secular girl, this is a religious girl who is being drafted. They go in Jewish and are come out not Jewish. Their entire value system changes, their priorities, the home, careers, it makes everyone crazy. We cannot agree to this."

Minister of Defense Avigdor Lieberman discussed Levinstein's comments Tuesday, saying, "Since the founding of the state, women have served in the IDF and made a tremendous contribution to the security of Israel. Rabbi Levinstein's tirade is not only an insult to Israeli women, but also to the IDF and its heritage and to the basic values of the State of Israel. When I return from the United States, I will reconsider the position of Rabbi Levinstein in preparing our young men for IDF service."