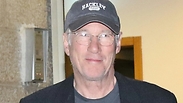 Richard Gere
Photo: Avi Moalem
Hollywood star Richard Gere is in Israel promoting his new movie Norman, by Israeli director Joseph Cedar. However, the question of how he will be received by the Israeli public is a matter of uncertainty.

"In my past visits to Israel, I always heard all the viewpoints. Now it has become almost impossible. I know many people will not like what I have to say, but these are things that need to be said," said Gere.

"The occupation must end. The occupation is ruining everyone on both sides. A bi-national state won't solve anything, and it will only turn Israel into an apartheid state. There needs to be two states for two peoples, with Jerusalem as the capital of both nations.

In his comments, Gere also referred to the issue of settlements, saying, "Why do you need all these provocations? How is it that the settlers are running the government? And how could it be that Israel, of all nations, controls another nation? Many Israelis that I know say the state has lost its way and I think that every Israeli knows that."

During his visit to Israel, Gere is also planning on meeting members of Breaking the Silence. He knows that this will be poorly received, but he remains undeterred. "I recently spoke to someone from the organization who served in the army, a wonderful young woman with a big heart, and they're labeling her an enemy of the state. It breaks your heart."

In Norman, Gere plays the role of Norman Oppenheimer, a Jewish bigwig who suffers humiliation after humiliation. After coming across Micah Eshel, a charismatic Israeli politician who feels his career is going nowhere, both of their lives change forever after Norman buys him a pair of shoes worth thousands of dollars. The kicker? Eshel becomes the prime minister.

"I had a lot of conversations with Joseph (the director) about politics," said Gere. "As I see it, getting a pair of shoes from someone as gift is not a big deal, but I am still confused as to how people accept everything an Israeli leader does, except when someone gives him a pair of shoes. This dissonance is hard for me to understand."

According to rumors, some parts of the movie were inspired by the relationship between former Prime Minister Ehud Olmert and Moshe Talansky, a relative of the film's director.

Gere admitted that he is aware that the character of Norman is very reminiscent of the shylock excuse for anti-Semitism. "I think it was more important for Joseph. What I discovered while working with Joseph and Oren is that Israeli Jews and New York Jews are two very different types of Jews. A Jew from New York has no fear. The constant fear in Israel that you're going to be destroyed does not exist in New York. On the other hand, American Jews have a tendency to defend Israeli leaders no matter what they do, because he's 'our Jew.'"

In regards to reports of increased anti-Semitism in the United States, Gere said, "I don't know if there is an increase or if it is just out in the open more. That is Trump's fault. The moment he decided to run for president, he opened Pandora's Box and gave people permission to let all their hate out. 'If the president can say anything, then so can I.' It's a wonder anti-Semites feel better now."