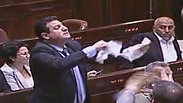 Odeh's protest
Credit: Knesset Channel
The Knesset approved the preliminary reading of two versions of the controversial bill to limit decibel levels for religious institutions, known as the Muezzin Bill, on Wednesday by a vote of 55-48.

In a raucous session in the Knesset plenum that descended repeatedly into a shouting match between Arab MKs and right-wing supporters of the measure, Joint List Leader Ayman Odeh was removed from the deliberations after demonstratively ripping up a copy of the bill.


"The muezzin Bill is nothing more than persecution of the Arab community, of Arab presence in the public sphere and against the Arabic language," Odeh said after being removed.

Odeh cited the Talmudic warning to rabbis not to issue rulings that the public will not be able to observe and said the Arab community would not observe the law if it becomes law.

"The muezzin was part of this public sphere long before the racists got here and will remain here long after they are gone. It is part of the audible tapestry of our one-and-only homeland, and it will stay that way."

The laxer version of the bill forbids houses of worship from calls to prayer during the evening and from using loudspeakers above an acceptable noise level during the day for that purpose. The harsher version, proposed by Yisrael Beytenu MKs Oded Forer and Robert Ilatov, completely forbids loudspeakers if its noise is considered strong and unreasonable.

One of the sponsors of the laxer version, Motti Yogev (Bayit Yehudi), said in his explanation of the bill, "I speak in the name of many Arab citizens who contacted me after the bill (was proposed)." Arab MK Hanin Zoabi (Joint List) yelled angrily at the Jewish parliamentarian in response, "Liar! You're lying!"

Ahmad Tibi (Joint List) defended the muezzin's call to the plenary session, saying, "It's an important Islamic religious ceremony, and we have never here interfered in any religious ceremony that affects you in Judaism. Your actions are a racist attack. You are interfering with the delicate soul of Muslims and harming the faith of Islam." When he had completed speaking, Tibi too ripped up a copy of the bill and trod upon it.

While the bill ostensibly applies to all religions, in practice, only Muslims perform calls to prayer during the nighttime. In Orthodox Jewish towns and neighborhoods, sirens announcing the beginning of a festival or Shabbat are sounded shortly before sunset.

Moran Azulay, Andrew Friedman/TPS and Hassan Shaalan contributed to this report.