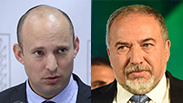 Lieberman and Bennett
Photo: Government Press Office, Yair Sagi
Defense Minister Avigdor Lieberman and Minister of Education Naftali Bennett locked horns on Wednesday in the aftermath of a speech by Rabbi Yigal Levinstein against women serving in IDF combat roles.

Tension began to mount after the Ministry of Education received an application on Wednesday from the Ministry of Defense, asking to convene the Joint Council of 'Mechinot' (pre-military academies) headed by the Director General of the Ministry of Education to discuss the possibility of closing the Eli pre-military academy, co-directed by Rabbi Levinstein.

The Defense Ministry also announced that a letter on the subject has already been transferred to the Ministry of Education.

Upon hearing the request, Bennett's office appeared to have perceived it as an attempt to challenge him, and therefore responded in kind.

"We will consider discussing the closure of the pre-military academy Eli with the defense minister once he liquidates Ismail Haniyeh," said a statement by Bennett's office.

"The pre-military academy in Eli bred Israeli heroes like Roi Klein, Eliraz Peretz, Emanuel Moreno and many others, and it will of course continue to operate as usual. Whatever needs amending will be amended, particularly regarding such miserable statements, but without undue militancy," continued the statement.

During a lecture in front of pre-military students, Levinstein ridiculed female combat soldiers. He described such women as "not hot" and wondered who would agree to marry them.

Levinstein, a prominent educator and influential Rabbi in the national Zionism stream, caused quite a stir last summer as well after his "deviants' speech," in which he attacked the LGBT community, came to light.

He often deals with the relationship between religion and the army and heads one of the most prestigious institutions working on this issue.

In his most recent lecture, Levinstein focused on the recruitment of female graduates of religious education—a growing phenomenon which is worrying rabbis in the more conservative circles.

"Our women are holy and humble," he said to the students. "Does this mean that a woman can't work? She can work in whatever she likes. But what is her mission? The Talmud says: build the next generation. It is up to them. Only our holy women know how to do it. What will she be, a company commander? It is a question of madness. It belongs to the mental asylum."

Later he added: "Leave the secular girls aside—this is a religious girl (we are talking about). They drove our girls crazy, drafting them into the army. Their entire set of values gets skewed, their priorities, home-career, would confuse everyone. We will not allow it."