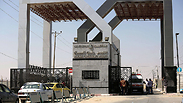 Rafah crossing, between Egypt and Gaza
Photo: AFP
Warming relations between Egypt and Hamas
After declaring Hamas a terrorist movement, Egypt is now utilizing the organization to deal with the ISIS branch in Sinai; however, change raises eyebrows in Israel, particularly after Egypt recently transferred two concrete pumps into the Gaza Strip, which Israel bans over fears that Hamas could exploit them for tunnel-building projects.
While the warming relations between Hamas and Egypt is leading to a sense of relief which Gaza residents have not experienced for many years, it is also causing concern both in Jerusalem and Ramallah.

Among other things, for the first time in a decade, Egypt agreed to send concrete pumps into Gaza. According to an official in the Hamas-run enclave, two pumps were brought in on Tuesday through the Rafah crossing which they said were intended for private companies, not for Hamas.


Israel has prohibited the entrance of such pumps being moved into the strip ever since the blockade of Gaza commenced, for fear that Hamas could use them to arm their bunkers or for their 'tunnel industry.'

The thawing of the frosty relations between Egypt and Hamas culminated in a first visit to Cairo during the regime of al-Sisi, conducted by deputy Hamas leader, Ismail Haniyeh in January, during which he met with Egyptian intelligence officials. Haniyeh was accompanied by a slew of Hamas officials, including from its military wing.

The desecalation of tensions came after the Egyptian regime concluded that Hamas did not need to be embraced in order to triumph in the ongoing battle against ISIS in Sinai.





In recent years, Hamas backed the ISIS branch in northern Sinai by providing them with logistical and military support, compelling Egypt to throw a bone to the Gaza rulers in an effort to to persuade them to sever ties with ISIS.

Over the past few weeks, since relations began to show a more cordial side, the Rafah crossing was frequently opened not only for the transit of people but also goods, including construction materials and cement with the approval of the Egyptian authorities.

Consequently, Israeli defense officials are increasingly worried about the new development between Hamas and Egypt, for fear that Egypt would loosen its military campaign against the smuggling tunnels in Rafah—which served as the main conduit through which Hamas received its weapons arsenal before Egypt flooded them.

At the same time, there is a growing tension between Ramallah and Cairo, both in the context of Egypt's warming relations with Hamas, and in light of Egypt's support of Muhammad Abbas's great rival, Mohammed Dahlan, who was dismissed from the ranks of Fatah and is trying to challenge the leadership in Ramallah as an alternative leader.

A record high was marked last week when Egypt prevented a senior Fatah official, Jibril Rajoub, to enter its territory. Rajoub landed at Cairo airport but had to return in disgrace on the same flight to Amman.

Through the Coordinator of Government Activities in the Territories, Maj. Gen. Yoav Mordechai, Israel publishes information in Arabic on the unit's site, regarding the close relationship between Hamas and ISIS in Sinai.

The information is usually published to 'shame' Hamas militants in the Gaza Strip who are assisting ISIS. The goal of these publications is also to expose the people of Gaza to Hamas atrocities and to arouse public opinion in Egypt against Hamas, hoping to thwart the thawing relations, or at least dampen them.

The summer of 2015 was not easy for al-Sisi's regime and the Egyptian army in the north of the Sinai Peninsula. Since the beginning of July and until October, the Egyptian army suffered one of the most intense attacks launched by the ISIS branch in Sinai.

Dozens of Egyptian soldiers were killed and there were reports of a takeover of northern towns in the Peninsula. Following that attack, there were commentators who were already began speculating that in light of the cooperation between ISIS and Hamas, an Egyptian military intervention in the Gaza Strip was closer than ever.

Almost two years later, it seems that Egypt is actually trying to establish some kind of cooperative system with Hamas.

Hamas has already been declared a terror organization by Egypt and was even linked to several acts of terrorism, among them the assassination of Egypt's Prosecutor General Hisham Barakat.

Even so, officials in Egypt probably understood that at the moment they have no better alternative than Hamas. In Al-Araby Al-Jadeed newspaper, which is published in London and is known to be biased against Abdel Fattah al-Sisi's regime, published claims saying his meeting in January with Ismail Haniyeh was held in light of Egyptian intelligence's estimation that Haniyeh will replace Khaled Mashal as the group's leader.

Sources speaking with the Egyptian news portal Masrawy in recent days say that during the last few months, meetings were held with Hamas officials such as Mousa Mohammed Abu Marzook, who serves as somewhat of an ambassador for the group in Cairo.

According to those sources, Hamas has agreed to two demands by the Egyptian side of the talks: border safety and stopping the passing through the tunnels. However, it did not agree to extradite wanted suspects, such as Saliman Sawarka, who is considered to be a senior member of ISIS. Hamas claimed that Sawarka is not present in Gaza.

The same sources offered an explanation for Egypt's latest change, which is also reflected by the increasingly frequent opening of the Rafah crossing.

"Mahmoud Abbas has completely neglected the strip, so Egypt is taking a stance to preserve its interests by being open with Hamas, even temporarily. Egypt will deal with Gaza not by waiting for the Palestinian Authority to take the reins, but by making sure to strengthen its own interests and reducing tensions."

Even if those sources do not fully reflect al-Sisi policies, there is no doubt that in reality things are changing in relation to Egypt and the strip. The more frequent opening of the Rafah crossing in recent months and the even more recent sending of concrete pumps, despite Israel's stance on them, is clearly an indication for that.