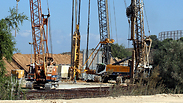 Gaza underground barrier
Photo: Roee Idan
Underground Gaza wall construction expedited
With the help of 1500-2000 foreign workers, the construction of the underground barrier designed to prevent tunnels between Gaza and Israel is now being accelerated; barrier expected to be complete in two years, and is estimated to cost approximately 1 billion dollars.
Construction work on the underground wall designed to prevent tunnel breaches into Israeli territory from Gaza is being expedited.

Between 1,500 and 2,000 foreign workers are expected to be recruited to help build the underground barrier.

The information was made public by Defense Ministry Director-General Udi Adam in his meeting with officials from towns near the Gaza border to update them on the status of the project.

According to Adam, technological work to be undertaken by two Israeli companies is also set to begin soon. He added that the companies will create jobs for residents of the region and that there are already rsome from the area currently working on the project.

The barrier, for which more than three billion shekels were allocated for its constuction, is expected to be completed in two years.

The possibility to open the Erez crossing to increase the number of workers from Gaza for the purpose of working the region's fields was also brought up during the conversation.

Adam said that he supports the idea and requested the assistance of the officials to promote the move with authorities that object it, such as the Shin Bet.