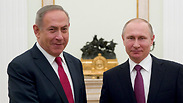 Netanyahu and Putin
Photo: EPA
Prime Minister Benjamin Netanyahu met on Thursday afternoon in Moscow with Russian President Vladimir Putin.

Before their conversation, which Netanyahu described as "a very important conversation for the security of Israel," the leaders addressed the Jewish holiday of Purim, which takes place this year on Sunday.

Putin extended his best wishes to the people of Israel for the holiday. In the prime minister's remarks as communicated by his office, Netanyahu replied, "I thank you for your Purim greetings. Two thousand five hundred years ago in ancient Persia there was an attempt to destroy the Jewish People that did not succeed and we mark this on the holiday of Purim.

"Today there is an attempt by Persia's heir, Iran, to destroy the state of the Jews. They say this as clearly as possible and inscribe it on their ballistic missiles."

Netanyahu concluded by speaking to the defensive capabilities of his country: "Of course, I would like to say as clearly as possible: Israel is a state today. We have an army and we are capable of defending ourselves. But the threat of radical Shi'ite Islam threatens us no less than it does the region and the peace of the world, and I know that we are partners in the desire to prevent any kind of victory by radical Islam of any sort."

Following the meeting, Netanyahu spoke with the Israeli press. He said that he had expressed to Putin that Israel would not be opposed to an arrangement with Syria, but strongly objected to Iran leaving a military presence in Syria. He added that no peace agreement could be reached with Syria while Iran, which calls for Israel's destructions, has troops there.

"There can't be peace while they continue to make war," he said.

The prime minister said that he and the Russian head of state also discussed economic issues pertaining to the two countries.

Netanyahu then said that he brought up his oft-repeated request, as he is "accustomed to doing in other places in the world," for the return of the Israeli civilians held captive by Hamas in the Gaza Strip along with the bodies of two killed IDF soldiers. The prime minister referred only to the latter two, Hadar Goldin and Oron Shaul, by name and then referred to the "the two Israeli civilians held by Hamas," despite there being three: Abera Mengistu, Hisham al-Sayed and Jumaa Ibrahim Abu-Ghanima.