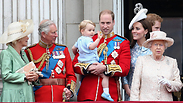 Some of the royal family on Buckingham Palace's balcony
Photo: Getty Images
British media began reporting on Thursday that UK government sources have indicated that a member of their royal family may pay a visit to Israel in an official capacity for the first time in the Jewish state's history.

Speaking with British Foreign Secretary Boris Johnson in Jerusalem, President Reuven Rivlin issued an invitation for a member of the royal family to visit Israel. This is not the first time: multiple Israeli leaders have extended invitations in the past that all were fruitless.

The Times and the Independent both cited Whitehall sources who allegedly spoke to the two papers and said that Rivlin's invitation was likely to be accepted. The justification would allegedly be to mark the centenary of the Balfour Declaration, seen as a critical development in the Zionist undertaking of establishing a Jewish state in that people's ancestral homeland.

The declaration, issued by then-Foreign Secretary Arthur Balfour, begins, "His Majesty's Government view with favour the establishment in Palestine of a national home for the Jewish people, and will use their best endeavours to facilitate the achievement of this object."

Official visits carried out by Queen Elizabeth II or a member of the royal family deputizing for her are decided on by the British government on the advice of the Foreign and Commonwealth Office. The

Ezer Weizman, Israel's sixth president, made the country's only state visit to the kingdom in 1997. In a break with established diplomatic tradition, that visit was not reciprocated by the queen, though an invitation was indeed extended, the Telegraph reported that Israel's former ambassador to Britain claimed.

The same newspaper reported that as of August 30 of last year, the British sovereign had been to 116 countries in 265 official visits. Israel has never been a destination for her or for a member of her family visiting on her behalf.

In 1994, the Duke of Edinburgh visited Israel—but in a personal capacity—to take part in a tree-planting ceremony for his late mother, who is buried on Jerusalem's Mount of Olives. Prince Phillip came to attend the ceremony at Yad Vashem, Israel's Holocaust memorial museum, naming Princess Alice of Battenberg as "Righteous Among the Nations" for having hidden Jews in her home in Greece during the Second World War.

In addition, Elizabeth's heir, the Prince of Wales, has visited Israel twice, coming to attend the funerals of Yitzhak Rabin in 1995 and Shimon Peres in 2016.