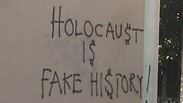 An exterior wall of the synagogue, spray-painted with a Holocaust denying message
Police say a Seattle synagogue in the Capitol Hill neighborhood was vandalized with anti-Semitic Holocaust-denying graffiti on Friday.

The Seattle Times reported a police officer discovered the spray-painted message Friday morning on an exterior wall of Temple De Hirsch Sinai.

Rabbi Daniel Weiner says the message reads "The Holocaust is fake history." The "s" characters in the graffiti are dollar signs.

Weiner says it "really is a toxic mix of Holocaust denial, the stereotypical charge that Jews are obsessed with money, and the notion coming from the (President Trump) administration that all facts are fungible. fake facts, fake history."

Weiner says for a time Friday a bed sheet saying "Love Wins" was hung over the graffiti, but that while it was a touching gesture, he thinks it's important for people to see what was done.

Seattle police are investigating the incident as a hate crime.

Gov. Jay Inslee said in a statement Friday that he that he continues to stand with the Jewish community as he has stood with all Washingtonians.

The vandalized Seattle synagogue is the latest in a growing line of anti-Semitic attacks and threats targetting US Jewish institutions. It was preceded by, among others, toppling headstones at a Jewish cemetary in St. Louis, US Vice President Mike Pence helped with the cleanup work, desecrated headstones at a Philadelphia Jewish cemertary and bomb threats received at several Jewish centers across the nations. US President Donald Trump has repeatedly disavowed these attacks.