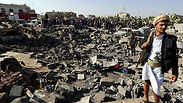 Aftermath in Yemen following an attack
Photo: EPA
22 civilians reportedly killed in bombing of Yemen market, contributing to humanitarian crisis
After an airstirke reportedly hits western Yemen market on Friday, the death toll rises to 22; targeted region part of US-led coalition; jets continue to fly overhead, spreading fear among first responders; the attack adds to Yemen's humanitarian crisis, the worst in the world.
A Houthi rebel news agency is reporting the death toll from an airstrike on a market by the US-backed, Saudi-led coalition in western Yemen has risen to 22 civilians.

SABA reported Saturday that eight people were also wounded Friday in the bombing of Khokha market in the western province of Hodeida. It added that jets continued to fly overhead, spreading fear among first responders and preventing them from rushing to rescue survivors. It was not immediately possible to verify the report.




The Saudi-led coalition began a campaign against the rebels in March 2015 in support of Yemen's internationally recognized government. The conflict has left more than 10,000 civilians dead and pushed the Arab world's poorest nation to the verge of famine.

On Friday, United Nations Under-Secretary-General for Humanitarian Affairs and Emergency Relief Coordinator Stephen O'Brien issued a statement, saying that the largest humanitarian crisis in the world is currently in Yemen, where two-thirds of the population—18.8 million people—need aid and more than seven million people are hungry and don't know where their next meal will come from. "That is three million people more than in January," he said, adding that more than 48,000 people have fled fighting just in the past two months.

During his recent visit to Yemen, O'Brien said he met senior leaders of the government and the Shiite Houthi rebels who control the capital Sanaa, and all promised access for aid.

"Yet all parties to the conflict are arbitrarily denying sustained humanitarian access and politicize aid," he said, warning if that behavior doesn't change now "they must be held accountable for the inevitable famine, unnecessary deaths and associated amplification in suffering that will follow."

For 2017, O'Brien said $2.1 billion is needed to reach 12 million Yemenis "with life-saving assistance and protection" but only 6 percent has been received so far. He announced that Secretary-General António Guterres will chair a pledging conference for Yemen on April 25 in Geneva.