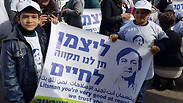 Protest against the hospital's decision
Anonymous donor offers $1 million to solve hospital crisis
After 6 doctors in Hadassah hospital's Hemato-Oncology Department tended their resignation following a managerial decision they say adversely affect the children patients, an anonymous donor is now offering a million dollars to solve the troubling conflict.
An anonymous donor offered last weekend to donate a million dollars to fund added beds for the Pediatric Hemato-Oncology Department of the Hadassah Medical Center in Jerusalem to end the crisis worrying dozens of parents and children.

The donor, a known businessman who requested to remain anonymous, offered to donate a million shekels. After Hadassah's management claimed that they needed more than that to add the necessary number of beds to allow the ward to keep operating, the donor agreed to donate a million dollars instead.

The donor's only condition was that the doctors who filed their resignation last week will keep their positions.

This proposal by the donor to the hospital and the resigning doctors is mediated by MK Ayelet Nahmias-Verbin (Zionist Union). The offer, and its following negotiations, is set to be deliberated today or tomorrow.

This conflict started after six senior doctors at the Pediatric Hemato-Oncology Department at the Hadassah hospital tended their resignation in protest of a decision by the hospital director to perform bone marrow transplants for children at another department for adults.

Hadassah Medical Center Director General Prof. Zeev Rotstein claimed that the resignations were part of "internal politics," adding that "as far as the professional matter is concerned, I'm confident about the treatment the children are receiving, both at the pediatric department and at the bone marrow transplantation department."

The doctors believe the decision is fundamentally wrong and does not allow them to provide patients with the best care. Despite talks between the sides, the doctors and the hospital's administration failed to reach an agreement to resolve the crisis.

The donor's proposal aims to bridge between the two sides by eliminating the problem altogether.

"I hope the current proposal will come to fruition so that we could help the children," said MK Nahmias-Verbin Saturday. "This proposal was aimed to provide an answer for an all-too-common distress, and I'm hoping that the doctors will agree to stay for the children's sake."

Head of the Hematology Department Prof. Eliezer A. Rachmilewitz confirmed the details of the donation Saturday, saying that "a known man called me, saying he is shocked by the story. According to him, if this is merely a budgetary problem he is willing to donate in order to solve it."