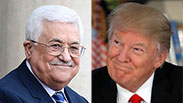 Abbas and Trump
Photos: AP, AFP
Here are two quick conclusions drawn from the first phone call between US President Donald Trump and Palestinian President Mahmoud Abbas.

The first conclusion: The new US administration managed to exasperate Abbas. The Palestinian Authority insisted on keeping score: 49 days since entering the White House, Trump has called Netanyahu twice and warmly welcomed him to Washington, with the two of them looking like a couple of lovebirds. Trump has also called all of the other players in the region, who are keeping the Israeli-Palestinian conflict at arm's length: Jordan's King Abdullah II, with whom the American president also met, Egypt's President Abdel Fattah al-Sisi, Saudi King Salman and the three rulers of the Persian Gulf kingdoms. Abbas found himself last on the list.

Trump also made sure to declare that he didn't care if the Palestinian issue would be resolved with one state or two states, but warned Netanyahu—in a message received by Lieberman as well—to calm down with settlement construction. And if that wasn't enough, Trump insisted on appointing the hawkish ambassador David Friedman, but did—for now—drop his plans to move the American Embassy to Jerusalem.

The second conclusion: Until further notice, we can expect only meaningless platitudes. White House Press Secretary Sean Spicer confirmed reports that Trump invited Abbas to Washington very soon. Meanwhile Palestinian officials described the phone call as "excellent" and "serious and pleasant," while the Palestinian leader said he was looking forward to work with the new president.

This was only a short phone call, with both sides saying only what is expected of them: Trump claims he made a decision to restart the talks without trying to impose solutions, while Abbas stressed he would be committed to any effort that would lead to the establishment of a Palestinian state alongside the State of Israel.

In other words: Trump kicked the ball to Ramallah's court. Abbas wants a Palestinian state? Ahlan Wasahlan, no problem. Come to Washington, you'll be welcomed with a red carpet, and we'll think together how to restart the process. This, on the condition you realize in advance that not all of your demands will be met. Just don't try to sell me tales about the Palestinian public opinion.

We must not forget that Trump is coming into this with insights from the business world. He has been warned that the Israeli-Palestinian conflict is a quagmire, that his predecessors invested precious efforts and time in finding a creative solution by forming work teams and spending dozens of millions and dollars. We also must not forget that the Israeli-Palestinian conflict is not at the top of Trump's priorities when it comes to our neighborhood. It's much more important to him to catch ISIS leader Abu Bakr al-Baghdadi and get rid of ISIS in general.

So when Trump informs Abbas that it is time to end 70 years of suffering for the Palestinians, he means: If you really are committed, stop running around international institutions, do your part, and I'll handle Netanyahu.

The statements coming out of Washington and Ramallah show Trump's advisors have done their homework. From Abbas's point of view, the White House's treatment of Netanyahu appears too friendly, done at his expense. Trump's team advised the president to have Abbas in Washington even before the Arab League's summit convenes in Jordan at the end of the month to give him support.

From Abbas's point of view, a lot is riding on his meeting with Trump at the White House. It would be a rare opportunity for him to give Trump the Palestinian version, the facts and data the American president did not get from Netanyahu.

He has already started laying the groundwork with the new American administration by sending the head of the Palestinian intelligence service, Majid Faraj, to brief his counterparts in Washington on just how deep the PA's security cooperation with Israel is, as proof Ramallah wasn't encouraging terror attacks.

Now, it is Trump envoy Jason Greenblatt's turn to skip between Jerusalem and Ramallah.

After all, the mystery of what Trump really wants, what his goals are, and how much is he really willing to invest, has yet to be revealed.