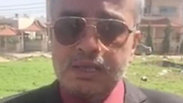 Daqamseh after his release
Relatives of Naharayim massacre victims comment on murderer's release
Now that Ahmad Daqamseh, who massacred 7 girls in Naharayim 20 years ago, is released from prison, the families of the victims have to cope not only with their loss, but with knowing that the one who caused their pain is free and proudly unrepentant.
Relatives of the seven Israeli girls who were murdered in the 1997 Naharayim massacre expressed their difficult feelings Sunday over the release from prison of its perpetrator, Ahmad Daqamseh.

Hezi Cohen, father of Nirit Cohen who was one of the victims of the incident, said Sunday morning that "we knew that it's going to be today; we kept track of the date. This morning takes me back 20 years, back to that damned day.

"On the one hand he served the sentence given to him by the Jordanian court. On the other, if he would have received 20 years for every girl that he murdered, like he should have, then he would have rotted in jail for the rest of his days."

Cohen then added, "He should have felt the pain that he caused us to experience in every moment of our lives. I relieve it every day, thinking 'If Nirit were alive today, what would she have been?' It happens mainly when I encounter her friends, see them grown and start realizing what I missed. I want to send a message to the prime minister and the defense minister: Our children's lives are not to be forfeited. You should have faced Jordan to prevent his release at any cost."

Orit Cohen, sister of Karen Cohen who was also murdered in the attack, said Sunday morning, "I grew up with her, and we slept in the same room until she died. I miss her a lot and coping is not simple at all. The murder took place around Purim, and now, 20 years later, they release him on Purim, when we should celebrate a holiday emphasizing joy and celebration. In my opinion it's just like releasing Hamas terrorists from prison."

"Who says tomorrow he isn't going to commit another terrorist attack, killing more Israeli children?" Orit asked, bringing to mind that Daqamseh still takes pride in his actions. "Our circle of loss just keeps getting wider. What is Purim celebrated for? For surviving after enemies tried to annihilate us. And precisely the one who tried and succeeded is released today, in Purim.

"We live in the shadow of that memory. The time around this holiday is the most difficult, and now his release added to that difficulty. We would have addressed the government about it, but we know it will be to no avail."

Yisrael Fatihi, father of the late Sivan Fatihi, said that he did not expect that the Israeli government would be able to prevent Daqamseh's release.

In an interview with Ynet, he said that "in the last remembrance ceremony for the victims of the massacre, we met with the Israeli ambassador to Jordan, who told us that a life sentence there is 20 years in prison. Last week they even called us to make sure we won't be surprised by his release."

On Daqamseh's release celebrations, Fatihi commented, "His family called him a hero. Even the Jordanian parliament called him a hero at the time of the incident. If that's what the parliament said, what else can be expected of his own family?

"I always say that the peace with Jordan is with Jordan's royalty, not with its people or with its parliament. This did not open any old wound for me, I know what the other side is thinking. For all I care, let the murderer be buried at home."

On March 13, 1997, Daqamseh—who at the time was a 26-year-old soldier in the Jordanian army—opened fire at a group of 7th and 8th grade schoolgirls the AMIT Fuerst School in Beit Shemesh, who were on a class field trip, killing seven and wounding 6 more.