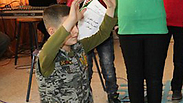 A school in Hebron pretending to kill an IDF soldier
An investigation by British newspaper Mail on Sunday found that Palestinian 24 schools named after terrorists, in addition to evidence of promoting violence against Israel by teachers, while describing terrorists as heroes. The paper also stated that these schools are funded by British foreign aid.

The piece includes photos of children pretending to kill an IDF soldiers as part of a school play.

The children's play

Palestinian educators describe systematically circumventing guidelines and restrictions put down by British and European donors attempting to control school curriculum: they print independent political information for their pupils, while some teachers admit to encouraging students to copy teenage terrorists.

Asked what he would say to a pupil talking about carrying out an attack on Israelis, told this newspaper, one senior West Bank teacher said, "I would tell them go in the name of God."

Palestinian public services reportedly received hundreds of millions of dollars in foreign aid last year, after Western donors raised concerns about the indoctrination of children.

A previous Mail on Sunday investigation found that British taxpayers' cash supported monthly payments to convicted terrorist killers and the families of suicide bombers.

After a photo of children pretending to shoot to an IDF soldier to death was posted on the school's Facebook page, the paper's investigation reported to have discovered that British aid was funding salaries for thousands of civil servants who had not worked for nine years, despite many admitting they had second jobs. These payments were stopped three months ago.

Joan Ryan, Chair of Labour Friends of Israel, stated that she supported sending aid to the Palestinians but stressed that they must stick to their funding agreements. "We cannot stand idly by while the Palestinian Authority sanctions anti-Semitic incitement which poisons young minds and makes a two-state solution ever more difficult to achieve."

This year, the UK is reportedly to give £25 million to the Palestinian Authority (PA). The money is expected to help fund salaries for 30,000 health and education officials in the West Bank.

The EU, which reportedly gets one-tenth of its aid budget from Britain, is donating £272 million. More than half of this goes to public servants in education, health and social services in Gaza and the West Bank.

Both the Department for International Development and the EU say the use of such money is carefully vetted by accountants. But a new report prepared for Labour Friends of Israel by monitoring organization Palestinian Media Watch discovered the following items:

• Twenty-four schools named after prominent Palestinian terrorists, including four named after the man who planned the murder of 11 Israeli athletes at the Munich Olympics, one after Hamas founder and one after Amin al-Husseini, the Grand Mufti of Jerusalem, who backed Hitler and helped recruitment for the SS.

• Sporting events are regularly named after terrorists. One of these was a football tournament, hosted by a school in al-Bireh, named after a 13-year-old who stabbed two Israeli citizens a few weeks earlier.

• Plays put on at schools and summer camps have pupils staging "executions," such as one in Hebron featuring a child in Palestinian colors "shooting" another dressed as an IDF soldier.

Itamar Marcus, the director of Palestinian Media Watch, said British aid was in actuality backing the glorification of terrorism and indoctrination of Palestinian children to see murderers as role models. "Britain and the European Union bear responsibility for this terror when they are funding a school system that is actively promoting, and thereby creating, terrorism," he said. "This is simply child abuse, encouraging kids to die in armed struggle.

"It is a terrible message for the next generation. Children are the key to peace but look at what they are being exposed to from a young age, growing up in an environment of terror and told the killing of Israelis is a heroic action."

Teachers reported that they are officially meant to refrain from discussing the 1948 Nakba (Palestinian exile from Israel during its War of Independence, as seen by modern-day Arabs). Koranic verses referring to jihad are also off-limits.

However, they stated that they ignore the bans, claiming that Palestinian leaders agree to them in order to pass the vetting process and obtain monetary aid, while knowing full-well that this will not be implemented in the classrooms..

"This is how it works," said Anwar Abu Quak, an English teacher in Ramallah. "They apply for funds, they get funds and they claim they will remove things from our textbooks. Then the principals tell teachers to take it upon themselves to teach the right things. Why should we listen to the foreign donors? They are buying the politicians and civil servants with their money, not those of us teaching the kids."

"Where does all this aid money go?" he asked. "First look at the schools, with no libraries or playgrounds and 45 children to a class – then look at the well-furnished offices of officials." He added that he had never seen a Western donor visit his school premises.

Nabil Samara, head of the 850-pupil school, spent two spells in prison for affiliation to a terror group and one for encouraging teachers to incite violence. He has seen five pupils shot dead in protests during his decade in charge (their pictures are displayed in the school) and about 20 jailed. "As long as the occupation continues it is impossible for us not to be inciting violence," said Samara.

Unlike some of his colleagues, Samara insisted he would seek to stop any students from active participation in attacks on Israel. "I would say don't throw stones—fight them by becoming a lawyer or a teacher. "

A spokeswoman for the Department for International Development (DFID) said: "We utterly deplore any attempt to glorify violence or intolerance." She added that the DFID believes denying young people an education would leave them more vulnerable to extremism.

An EU spokesman said that "All funds the EU allocates to the PA for salaries, pensions and social allocations go through an elaborate system of rigorous verification procedures."