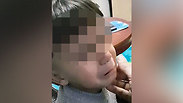 A toddler from Umm al-Fahm bursts into tears due to nearby shooting
Arab toddler filmed in panic from shooting
The passing weekend included more shootings within the Arab community, which has taken the lives of 13 people since the beginning of the year; in the Arab town of Umm al-Fahm, a 3-year-old is recorded bursting into tears and shivering due to nearby shooting.
Since the beginning of 2017, 223 shooting events have been carried out within the Arab community, taking the lives of 13 people. 62 people were reported to have been murdered within the Arab sector in 930 shooting occasions over 2016, and 58 people were murdered in 712 events in 2015.

One such shooting was carried out on Saturday evening in the northern district of Umm al-Fahm. A father residing there recorded his three-year-old son crying and shaking after he heard people opening fire nearby. The father is heard in the video attempting to calm his son by saying, "Why are you crying? They're pigs. Calm down, dear."

A resident of Umm al-Fahm stated that the shootings may become worse. "Unfortunately, not a day goes by without criminals bothering us with these shooting. It's become a competition, where whoever shoots the most is considered a hero. The children are very scared and don't sleep at night due to the shooting. We don't know how to fight this phenomenon; the shooting could hurt people and create disasters. If illegal weapons continue to be freely available, the ramifications could become more severe."

"Sometimes I feel like I'm at war because of the shooting," said a young man living in Umm al-Fahm. "The shooters are not considerate and go on with their endless shooting. I personally don't sleep at night and have a hard time waking up for school in the morning. If I do end up going to school, I feel groggy and have a hard time functioning. The shooting is hurting our future."

On a separate occasion over the weekend, unknown individuals shot at the home of the imam of a mosque located in the central city of Tayibe. Residents reported that the imam, Sheikh Mohannad Shikh Yousef, has been rumored to be "working for the eradication of violence, and that due to his direct approach it was decided to shoot at his house." Al Mohamadia, a non-profit focused on aiding families in need, issued a condemnation following the event, saying that these actions "have crossed all red lines."

The police responded to the shootings by saying that "the Israel Police and Ministry of Internal Affairs are hard at work to reinforce police services in an effort to eradicate this phenomenon from within the Arab community." The police statement added that thanks to these efforts, "more than a thousand indictments were filed in this matter in 2016.

"That said, we would like to stress that Israel Police cannot bring about a beneficial change on its own, and therefore it is necessary to have the cooperation of the Arab leadership and authorities. Israel Police will continue to adamantly minimize the possession of illegal weapons and hold a zero tolerance policy with suspects unlawfully using weapons and those involved in arms trade."