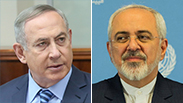 PM Netanyahu (L) and Iranian Minister Zarif
Photo: EPA, Mark Israel Salem
Iranian Foreign Minister Mohammad Javad Zarif accused Prime Minister Benjamin Netanyahu of spreading 'bigoted lies' and 'fake history,' in a comment following the prime minister's statements during Sunday's Purim festivities

The scathing remarks came in response to Netanyahu's comments during Sunday's reading of the Esther Megillah scroll in celebration of the Purim holiday, in which the prime minister said that like in the story of Purim, "Persia is still trying to destroy us today," referring to Iran.

"To sell bigoted lies against a nation which has saved Jews 3 times, Netanyahu is resorting to fake history and falsifying the Torah. Force of habit," tweeted the Iranian minister next to a picture describing three historical event in which the Persians saved Jewish lives.
To sell bigoted lies against a nation which has saved Jews 3 times, Netanyahu resorting to fake history & falsifying Torah. Force of habit. pic.twitter.com/N09PyyGwqy

— Javad Zarif (@JZarif) 12 במרץ 2017
Netanyahu asked several children during Sunday's Megillah reading if they know why they celebrate Purim. When they responded that it was because "the Persians wanted to kill us all, but failed," the prime minister said: "and today they try again, and will also fail."

Netanyahu made similar utterances in his meeting with Russia's president Vladimir Putin last week: "Today there is an attempt by Persia's heir, Iran, to destroy the state of the Jews. They say this as clearly as possible and inscribe it on their ballistic missiles."

"Israel is a state today. We have an army and we are capable of defending ourselves," Netanyahu said in Moscow, adding "But the threat of radical Shi'ite Islam threatens us no less than it does the region and the peace of the world, and I know that we are partners in the desire to prevent any kind of victory by radical Islam of any sort."