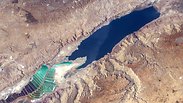 The Dead Sea from outer space
Photo: Thomas Pesquet
While the Dead Sea may be the lowest physical place on earth, photos recently taken of Israel by French astronaut Thomas Pesquet from outer space show that its geographical location in no way reflects the sheer magnitude of its beauty.
The photos were recently made public, this time showing the breathtaking views of the Dead Sea.
Pesquet tweeted a photo of the sea, writing "The Dead Sea, the lowest point of the Earth, but certainly not the least beautiful."
During his stay in the big void, Pesquet also completed his first spacewalk together with NASA astronaut Shane Kimbrough, who released pictures Israel from outer space two months ago.
Pesquet was launched to the International Space Station in November along with US astronaut Peggy Whitson and Russian cosmonaut Oleg Novitsky. He is set to return to earth in May.