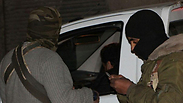 Images have surfaced of ISIS-Sinai Province (ISIS-SP) fighters manning checkpoints and performing security inspections in the city of Al-Arish in the northern Sinai.

Pictures show ISIS fighters armed with assault rifles and rocket-propelled grenades (RPGs) moving through traffic and inspecting the IDs of drivers. Another picture even showed a suspicious man being detained in the city square.

ISIS-SP has recently been receiving a lot of "media" attention from the organization given their recent setbacks in Iraq and Syria.

Al-Arish is the capital of the North Sinai and the largest city on the entire peninsula. The city also lies at the heart of friction between Egyptian security forces and the terror organization.

ISIS-SP recently took responsibility for two bombing attacks in the city, which killed three officers—including the supervisor of general security in the southern Sinai—and wounded seven others.

In addition to the bombings in the city, dozens of Coptic Christian families have fled Al-Arish to Ismailia after ISIS-SP murdered several Copts. The organization's publications routinely call for violence against Copts and other Christians in the region.

A spokesman for the Egyptian military also published an account of Egyptian military activities in the region against ISIS-SP, but it would appear there is still work to be done. The Islamic extremist organization is estimated to have at least 1,000 fighters in the area.