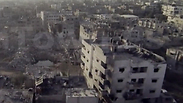 Shuja'iyya during Protective Edge
Appeals filed in case of Protective Edge theft
Prosecution files appeal demanding a harsher sentence for the soldier convicted of theft during Gaza incursion, while the defense files an appeal for acquittal; defense cites prosecution's reneging on an agreement for leniency in exchange for witness testimony.
The IDF Military Advocate General has filed an appeal with the Military Court of Appeals demanding a harsher sentence for a former Golani soldier convicted of stealing money from a Palestinian home during Operation Protective Edge.

The soldier, who has already been released from the IDF, also filed an appeal demanding an acquittal.

Ynet has learned that the Military Court has sent both sides to mediation, which will begin soon.

The soldier was convicted a year ago in a Haifa Military Court of stealing NIS 2,420 from a home in Shuja'iyya in the Gaza Strip.

The Military Advocate General claims that the event occurred during the course of the IDF ground operation in Gaza in 2014. The prosecution has argued that the soldier should be convicted of looting, which carries with it a sentence of 10 years in prison.

The soldier was originally sentenced to four months of carying out base and maintenance work, a demotion in rank to that of Private and probation.

During the appeal, the soldier claimed that the prosecution violated a signed agreement between the two parties after he agreed to implicate two of his friends. The two were convicted as accomplices in the case.

The soldier has claimed for two years that the military prosecution "duped" him after convincing him to implicate his comrades in exchange for a lighter charge and sentence.

However, the prosecution has claimed that according to military legal doctrine, the state may renege on an agreement if it turns out that the state witness is the central perpetrator or figure in the commission of a crime.

Commenting on the decision to appeal for a lighter sentence, the soldier's attorney, Alon Erez, noted that the prosecution "acted in bad faith and dishonestly." Furthermore, "had my client not signed the agreement, the role of other soldiers in theft would have remained unknown."

Erez also noted that his client's rights were violated after the company commander assured soldiers that if they turned over those responsible for the theft and returned the money, no harm or punishment would be meted out.

The prosecution, for their part, commented on the cancellation of the deal, saying, "The agreement was cancelled after it became clear that according to his new version of events, he was the prime instigator. The soldier lied to the battalion commander, Military Police and the prosecution."