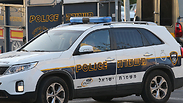 Police
Photo: Oren Aharoni
Police arrested four Petah Tikva residents Monday on the suspicion of threatening and intimidating an Arab woman and her daughter in an effort to convince them to leave their apartment in the city.

The four were arrested after the Arab woman found the remains of a stun grenade thrown into her home.

One of the suspects, who had been arrested a week earlier for similar threats, had apparently also harassed the woman while she was walking on the street by driving in a threatening manner near her on his motorbike.

The suspects, two men aged 21 and 58 and two women aged 21 and 24, were taken for questioning.

The victim and her daughter, 47 and 30, respectively, recently moved to Petah Tikva from the north. According to the two, neighbors complained about Arab music coming from the apartment during Shabbat and demanded that they leave the building.

Several of the suspects have criminal records and were due to appear in the Petah Tikva Magistrate's Court Monday morning.