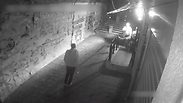 Man filmed attempting arson attack on popular J'lem club
Suspect from Jabel Mukaber captured on CCTV last week tampering with a gas cylinder outside the premises of the popular downtown nightclub ToyHouse in the capital, damaging connecting copper pipes, and flicking a cigarette at it before walking away; police believe the suspect may have acted out of frustration of being denied entry, but the precise motive remains unclear.
A resident of east Jerusalem has been arrested on suspicion of attempting to set fire to a crowded nightclub in Jerusalem by tampering with a gas balloon outside the premises.

Following original suspicions that the attempted arson attack was nationalistically motivated, a deeper investigation revealed that it was more likely criminal related.

The matter is still under investigation and a number of possible motives are still being examined, including the possibility that the suspect carried out his actions out of frustration of being denied entry into the club.

However, the exact reason behind the attempted attack remains unclear and still under investigation.

The incident, which was captured on CCTV, took place outside the popular downtown club ToyHouse in central Jerusalem.

The suspect was recorded searching around the back areas of the club until he found the gas cylinder which he can be seen tampering with and opening the valve, causing a gas leak.

After walking away back into the street, he is seen flicking a lit cigarette at it. Moreover, he can be seen damaging and moving copper pipes attached to the balloons while smoking a cigarette.

Police say they were called to the scene after receiving reports of a gas leak in the center of the capital. Upon arrival at the bar, officers cordoned off the area and distanced passersby. Firefighters were also called in anticipation of a possible conflagration.

The suspect, identified as Wa'il Abu Ramuz from Jabel Mukaber, has denied any involvement in the incident while his lawyer has said that he is certain that his client has no malicious intentions. He added that the matter will become clearer in the courts.

Ramuz was arrested one week ago and details of the investigation remain classified for the time being.

On Monday, his arrest was extended until Thursday, as prosecution teams prepare to submit an indictment against him.