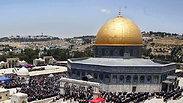 In a move arousing resentment and anger, Likud Ministers Ze'ev Elkin and Miri Regev are seeking to establish an advocacy foundation to promote Jewish ties to the Temple Mount.

The proposed Temple Mount heritage foundation, similar to the existing Western Wall Heritage Foundation, will be budgeted at NIS 2 million a year, taken from Elkin's Jerusalem Affairs Ministry and Regev's Culture Ministry.

Among other things, the foundation would produce movies and clips in a variety of languages and develop courses on the subject and raise awareness on social media.

"In recent years, Israel has been dealing with a de-legitimization campaign, which in part uses the Temple Mount, its heritage and its connection to the Jewish people in a negative manner that is inconsistent with factual truth as reflected in historical and archaeological research," Elkin and Regev said in a joint statement.

According to the ministers, the initiative was undertaken in response to the controversial UNESCO decision, which failed to recognize the Jewish people's connection to the holy site.

The Joint List attacked the initiative, saying the area is "holy to Islam and regardless of whatever foundation is established, nothing will change that facts."

Chairman of the Jerusalem Committee, MK Ahmed Tibi, said, "The Al-Aqsa Mosque and the surrounding area, 144 square dunams, is a sacred place for Islam and a mosque for Muslims. So it has been and always will be, despite the occupation and despite the initiative."

Another member of the Joint List, MK Jamal Zahalka, said, "Elkin continues to provoke and fan the flames. Step by step the government is trying to change the status quo at Al-Aqsa Mosque. Elkin's initiative is another rude provocation. It was not meant for research and advocacy, but rather the legitimization of malicious and intentional harm to a Muslim holy place."

Members of the Israeli right, meanwhile, welcomed the move. MK Yehuda Glick, who has fought to expand the Jewish presence on the Temple Mount for years, said, "After many months, I am glad my efforts have bore fruit. It is about time. After a delay of 50 years (more accurately, 2,000 years) the Israeli government has decided to recognize that the Temple Mount is the national site of the people of Israel."