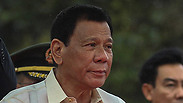 Philippine President Rodrigo Duterte
Photo: Reuters
Salty-mouthed Philippines President Duterte to visit Israel
Rodrigo Duterte, the Philippines president who likened himself to Hitler when referring to his war to eradicate drugs from his country, is due to arrive in Israel in May; Duterte later apologized for his comments, saying that his deeply regrets offending the Jewish community.
Philippines President Rodrigo Duterte, who is known for his carrying out human rights abuses and salty language (going as far as to compare himself to Hitler), is set to visit Israel in May.

Since his victory in last year's presidential election, mainly due to his (extremely) aggressive stance on the war against drugs, Duterte has caused more than three thousand deaths and thousands of arrests as part of his efforts.

Noting that Hitler had murdered millions of Jews, Duterte said, "There are 3 million drug addicts (in the Philippines). I'd be happy to slaughter them.

"If Germany had Hitler, the Philippines would have...," he said, pausing and pointing to himself, adding "You know my victims. I would like (them) to be all criminals to finish the problem of my country and save the next generation from perdition." Duterte later recanted his remarks, saying, "I apologize profoundly and deeply to the Jewish community."


Aside from that particular statement, Duterte is known for cursing—especially western officials. Last year, Duterte called former US President Barack Obama a "son of a whore," warning him about bringing up extrajudicial killings at an international forum held in Laos.

Before that, he used that expletive for the pope after he got stuck in a traffic jam caused by his visit to the Philippines. Then, most recently, in response to the UN's criticism of him Duterte raised a middle finger, saying "fuck the European Union."

Duterte apologized for all these comments, even coming to a Synagogue in the Philippines capital of Manila to apologize to the Israeli Ambassador Ephraim Ben Matityau and the heads of the city's Jewish communities.

"The president (Duterte) stated that he came to the synagogue to apologize to the Jewish people," said Ben Matityahu following the meeting. "He acknowledges and cherishes the Jewish people and Israel and was never before accused of anti-Semitics, which he despises. Furthermore, his father-in-law is Jewish. The president denounces what he calls 'the western hypocrisy' and the west's stance towards his war on drugs. He is willing to accept an investigatory committee by the UN which will prove that it is a just war and that it is done by law."

According to the ambassador, Duterte praised Prime Minister Benjamin Netanyahu on his insistence to safeguard Israel's national interest above all else. Duterte sees in Israel as an ally, and ordered his ministers to focus on acquiring armaments from Israel.

Duterte said that he understands that his comments enraged Jewish communities around the world, but insisted that his decision to bring up Hitler was only meant to mock his objectors who try to paint him as a Nazi.