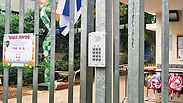 Dozens of kindergarteners may have caught tuberculosis
A kindergarten in Mazkeret Batya may have been exposed to tuberculosis bacteria from an assistant and will be tested on Tuesday for the illness; no longer life-threatening, tuberculosis can still cause damage to the lungs and spread to other organs in the body.
The parents of a kindergarten in the central town of Mazkeret Batya received a message on Monday, saying that one of the assistants to the teacher has apparently come down with tuberculosis. This put all the children under her care, in addition to the other staff members, at risk of catching the illness.

The letter handed out to the parents was signed by regional supervisor Sharona Peleg and epidemiology nurse Hana Lavi. It stated that "an epidemiology investigation found that the children and staff were exposed to the bacteria, which could bring on tuberculosis."

The parents are due to take part in a meeting explaining possible ways of contagion. It is yet unknown whether a patient from within the kindergarten, apart from the assistant, raised concern that other have caught the disease. They were also requested to show up at the kindergarten with their children on Tuesday, where they will be tested for tuberculosis.

"All the parents are hysterical," said one of the children's father. "We were sent a letter, but no one knows what's going to happen, apart from knowing that it's a stressful illness. We're afraid and hoping no one has been infected."

It should be noted that the kindergarten sits within a complex of kindergartens, where some 100 children have recess together.

Health Minister Spokesman Eyal Bason issued a statement in response, saying that "the case is known to the Health Ministry. The local bureau is now preparing to give parents an explanation and to perform any necessary action following the Purim holiday."

Tuberculosis is a chronic infectious illness caused by bacteria. It mainly attacks humans, but certain strands have been known to target cattle and domestic birds.

In the past, tuberculosis was among the world's leading causes of death, with hospitals dedicating entire wards to care for patients until their deaths. These days, the illness can be contained, with the main concern being lung damage. Despite this, other organs and bodily systems can also be affected.

Catching tuberculosis can happen through spit particles that are released into the air via sneezing or coughing. At first, the bacteria can bring on pneumonia, before full-on tuberculosis is diagnosed.

Tuberculosis symptoms include coughing and coughing up blood, fever, weight loss and respiratory difficulties. Severe cases can cause meningitis and irreparable damage to the nervous system, in addition to causing damage to almost any other organ in the body. Treating tuberculosis is comprised of several antibiotic medications over an extended period of time.