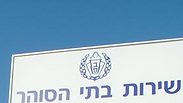 Israel Prison Service (file photo)
Photo: Raanan Ben-Zur
An IDF female officer lost sight in one eye after being struck with shrapnel from a stun grenade during a drill with the Nachshon Unit of the Israel Prison Service (IPS).

The exercise took place two weeks ago at a Nachshon base in Ramla when soldiers from the IDF's Military Police Corps visited as part of efforts to recruit them into joining Nachshon and the IPS upon their release.

As first reported by Army Radio, a stun grenade was thrown during an exercise meant to showcase how Nachshon intervenes against unruly prisoners. After the explosion of the grenade, the officer was struck in the eye by shrapnel which blinded her.

The IPS and Israel Police have opened an investigation into the incident.

The IDF Spokespersons Unit issued a statement, saying, "As part of IPS training, an exercise was conducted by the Nachshon Unit which included the use of a stun grenade. During the course of the drill, an IDF officer was wounded and evacuated to the hospital. The officer was discharged the same day under close supervision. As a result of the incident, an investigation has been opened by the IPS."