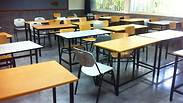 A general middle school and high school strike will take place Wednesday from 08:00-10:00am in protest of the surging levels of violence in the education system.

Chairman of the Teachers' Union, Ran Ezra, said that the phenomenon has long been recorded as being on the rise.

"We have long warned that violence against public teachers is increasing. Why wait, God forbid, for a teacher to be murdered? Our hearts are with the nurse who was cruelly burned and we support the strike of the health system in light of this shocking event. The blood of educators and public servants will not be in vain."

In a letter sent to Education Minister Naftali Bennett (Bayit Yehudi), Erez announced his organization's labor dispute, accusing Bennett of not taking sufficient action to remedy the problem.

"One of the reasons for this labor dispute is that you are not doing enough to stop this serious and worrying phenomenon. Unfortunately, my attempts to formulate a solution with you and recruit you into our cause, have failed."

Erez continued to lay into Bennett, contending that he had taken an insouciant stance on the matter that had resulted in the humiliation of teachers.

"Your conduct and the indifference with which you refer to violence against educators, humiliates tens of thousands of teachers. Given that you are the minister in charge (of education), I urge you once again to act immediately to ensure that whoever raises their hand against a teacher never does so again."