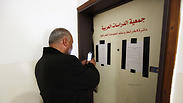 Israel briefly detains Palestinian ex-negotiator
Israeli police detain a former Palestinian peace negotiator for several hours, accusing him of conducting illegal political activity in east Jerusalem on behalf of the Palestinian Authority; he will be permitted to reopen his office later in the week.
Israeli police on Tuesday burst into the offices of a former Palestinian peace negotiator and detained him for several hours, accusing him of conducting illegal political activity in east Jerusalem on behalf of the Palestinian Authority, before releasing him.
It was believed to be the first arrest of its kind since Israel banned the Palestinian Authority from carrying out official business in east Jerusalem in 2001, and illustrated the deep sensitivities over the area.
Khalil Tufagji, a prominent Palestinian cartographer, said police entered his office early Tuesday and confiscated computers and files before taking him away.
In a statement, Israeli police accused Tufagji of conducting official research for the Palestinians on Israeli land activities in east Jerusalem and presenting them as "land theft."
They claimed that he was in "constant contact" with Palestinian security forces and that his research included details on Palestinians who intend to sell east Jerusalem properties to Israelis. Palestinians consider such land sales treasonous.
"Activity by the Palestinian cartography office is part of the Palestinian Authority's plan to harm our sovereignty in Jerusalem and even to threaten Arabs selling real estate to Jews in the city," said Israel's public security minister, Gilad Erdan. "I will continue to act decisively in order to prevent a foothold of the Palestinian government in Jerusalem."
His statement said Tufagji's office would remain closed for six months. But several hours later, Tufagji was freed and told The Associated Press that he would be permitted to reopen his office later this week.
"I proved that I have no direct connection with the Palestinian Authority. We are an NGO funded by foreign donors, not the Palestinian Authority," he said.
Tufagji is a former peace negotiator and is considered the foremost Palestinian expert on Israeli settlement activity in the occupied West Bank and east Jerusalem, areas claimed by the Palestinians for a future state.
He said he receives funding from Arab donors, though he shares his research, including a vast database on Israeli settlements, with Palestinian officials. He said he has no contact with Palestinian security forces.
Tuesday's incident reflected the deep sensitivities on both sides over the status of east Jerusalem.
Tufagji's arrest was the first of its kind, but over the years, Israel has enforced the ban in other ways, said Jawad Bulous, a Palestinian lawyer who defends such cases.
For instance, he said Israel has arrested a handful of Palestinian policemen who lived in east Jerusalem.
In 2005, Israel briefly detained a West Bank activist who was running in the Palestinian presidential election who tried to campaign in east Jerusalem, accusing him of illegally entering the city.