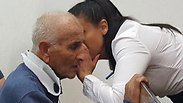 The Tel Aviv Magistrate's Court extended the remand of 78-years-old Asher Faraj by eight days on Wednesday morning, a day after he is alleged to have burned nurse Tovah Kararo to death at an HMO in Holon.
Faraj entered the HMO in Holon on Tuesday and then allegedly poured an accelerant in the room Kararo was sitting and lit it ablaze. He then fled the scene and was arrested after a short chase.
During Faraj's remand, he will undergo psychiatric evaluation to determine whether or not he is fit to stand trial.
At the start of the hearing, Faraj's attorney said, "With the consent of both sides, the suspect will be sent for psychiatric evaluation and it is agreed that he will not be sent to Clalit clinics or the Abarbanel Mental Health Center in Holon. The background of this incident is supposedly related to public health services, so the evaluation should be conducted by a hospital, so as to avoid a conflict of interest."
In her remarks, Judge Ronit Poznanski-Katz said, "This is a tragic case that is indicative of recurring instances of violence by patients and family members against medical personnel. This shows the dangerous line that the suspect was not afraid to cross and bring about this serious outcome."
A police representative, Meir Amos, asked the court to extend Faraj's detention by 12 days as he is suspected of murder and arson with the intent to cause bodily harm.
(Translated and edited by Fred Goldberg)