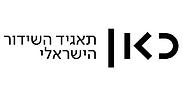 Logo of the new Israel Public Broadcasting Corporation
Prime Minister Benjamin Netanyahu launched an unprecedentedly harsh verbal attack on Tuesday against the new Israel Public Broadcasting Corporation, calling it "the corporate left" and accusing it of providing a platform for terrorists' supporters after the corporation decided not to fire one of its employees who shared a tweet expressing support for a terrorist.
"A reporter working for the left-wing corporation praised a terrorist. You would expect her to be fired, no? No, she was only 'suspended.' The leftist corporation chose to provide a platform for terror supporters," Netanyahu wrote on Facebook.
Samah Watad, a Jatt resident, is employed as a researcher in the corporation's Arab division. Watad shared a tweet on her personal Twitter account praising the terrorist Basel al-Araj, who was liquidated last week.
Once matters came to light, the corporation decided to "suspend Watad until further notice, after the severity of her tweet and its implications were explained to her. Watad clarified that she did not intend for her actions to be construed as an expression of support nor does she encourage or support violence of any kind."
In the meantime, Watad is still working as a researcher in the corporation.
(Translated and edited by N. Elias)