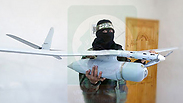 An IDF Skylark drone carrying out routine operations in the northern Gaza Strip crashed in the Saja'iyya area on Wednesday afternoon.

The IDF said it was investigating whether the drone went down because of a technical malfunction and stated that "no damage was caused to security as a result of the crash."

The drone belongs to the Artillery Corps and is being utilized in tactical missions like reconnaissance and intelligence gathering.

There has been a series of drone crashes in recent year on the northern border, Gaza Strip and the West Bank.

In January, a Skylark drone crashed in southern Lebanon.

In December 2014, Syrian and Lebanese media reported that a Skylark drone belonging to the IDF was shot down in Quneitra, near the Druze village of Hader—a stronghold of Assad supporters. At the time, the IDF Spokesman's Office said that the army was not aware of a drone being shot down or crashing on the northern front.

In March 2014, Hamas's military wing claimed that a Skylark drone crashed in the southern Gaza Strip as a result of a malfunction and that it seized it.