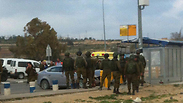 Scene of the attack
Photo: Gush Etzion Regional Council
IDF troops shot and seriously wounded a Palestinian girl, 16, who attempted to carry out a terror attack at the Gush Etzion junction on Wednesday afternoon.
The girl, from Beit Fajjar, rammed her car into a bus stop at the Gush Etzion junction, where several people were waiting, raising the soldiers' suspicions.
No one on the Israeli side was physically hurt, but three were being treated for shock, including a pregnant woman.
The Gush Etzion junction has repeatedly been a target for vehicular and shooting attacks.
Israeli security forces are investigating the incident.