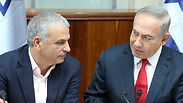 Kahlon and Netanyahu
Photo: Alex Kolomoisky
Shas Chairman and Interior Minister, Aryeh Deri, issued a threatening message during a cabinet meeting, saying that if the government continues on the path of internal animosity over the Israel Broadcasting Authority (IBA), he would drag the nation into elections.
"I do not intend on staying in a malfunctioning government which lives on mistakes and on (members) 'destroying one another.' If everyone doesn't come to their sense, it is better to hold elections," he warned.
Deri continued with his remarks, saying, "Governments don't fall apart from big things, but rather the smaller things. What a shame. I see this getting worse."
His warning comes against a backdrop of widening fissures between Finance Minister Moshe Kahlon (Kulanu) and Prime Minister Netanyahu over the fate of the IBA and the new Israel Public Broadcasting Corporation (IPBC).
On Wendesday evening, Netanyahu called on Kahlon to assist him in delaying the closure of the IBA for six months before it is replaced by the IPBC.
For his part, Kahlon expressed his suspicion of the request, claiming that Netanyahu is attempting to direct the anger of soon-to-be former IBA employees onto him.
As a result, Kahlon unleashed a fierce rebuke of Netanyahu in which he referred to the 2015 elections, when IBA employees were compared to Hamas members by Likud.
The two are currently engaged in an ever increasing public spat, which has now escalated further, causing Deri to throw his hat into the ring and threaten to bring the government down.
The confrontation between the two had been simmering since Monday, when during a meeting, Netanyahu asked Kahlon to support a law he was trying to push through the legislative bodies which would give the Israeli government control over public broadcasting.
"You aren't really interested in public broadcasting, but rather control," said Kahlon. "You need to understand, I left the Likud and you won't be doing things like this to me. When things become difficult, you disappear. When there are achievements, you appear."
In comments made during a coalition event Wednesday in Givat Olga, Netanyahu said, "I want to tell you all openly that the decision to establish the Israel Public Broadcasting Corporation was taken by the previous government and was not taken by this government. I was the prime minister and I am saying to you, I ultimately take responsibility for the decision, which I am now telling you was an incorrect one."
Netanyahu then addressed Kahlon directly, saying, "I say to my friend Moshe, let us join hands and fix this. It isn't too late to make this correction, even within the confines of the budget. These employees are ready, they've told us, and we're ready to fix everything, to shrink, to cut. What we need to do is take six more months and find the solution to this thing. It is appropriate and it is necessary."
The Ministry of Finance issued a statement in response saying that Netanyahu is continuing to exploit the emotions of IBA employees.
"He obviously forgot who called them (IBA employees) Hamas men during an election campaign and passed a law restricting their absorption into a corporation," read the statement.
The feud between the two became even more vocal Thursday morning, when Kahlon, who was speaking at a conference in Tel Aviv, said, "How is it said these days? Kahlon and Netanyahu are no more."
As for the employees of the IBA, Kahlon said he spoke with the Chairman of the Histadrut (Israel's organization of trade unions), Avi Nissenkoren, saying, "We agreed on a process of voluntary retirement for IBA employees who will be able to retire under fair conditions," said Kahlon. "We agreed that an effort was going to be made to absorb as many IBA employees as possible into the IPBC."
Currently, the IPBC is expected to begin broadcasting at the end of April.
(Article translated and edited by Fred Goldberg)