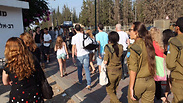 IDF induction center. A religious girl is not a draft dodger, a secular girl is
Photo: Motti Kimchi
In Israel, there is a right to conscientiously refuse to serve in the IDF. If you are a religious girl, all you have to do is declare that you are religious and you will be released by the army.

If you are a secular girl, you don't have this right. If you are a secular girl who feels that serving in the army—where a considerable part of the tasks maintains the occupation—does not match your world view, and you don't want to pretend to be religious or someone with mental issues, you will be thrown in jail. And if you have to, you will do it again and again. Tamar Alon and Tamar Ze'evi, two such girls, have been in jail for more than 100 days.

A religious girl is not a draft dodger. She is using her right to say no in the name of her world view. A secular girl who has her own world view will be punished.

I believe that all of the state's citizens must take part in the general assignments. On the other hand, I don't think that every citizen has to do anything. There are people who are fit for military service, and there are people who are unfit, whether because the army doesn't need them or because they are against serving in the army in principle. In Israel, the missions are divided based on sector, and the right to refuse is given based on sector.

There are sectors that are sweepingly exempt from military service, like yeshiva students, religious women and Arabs. Jewish secular men and women are deprived of this right. This isn't about personal suitability, it's about a man or a woman essentially belonging to a sector with privileges (like religious Jews) or with fewer rights (like Arabs). If we put the Arab citizens aside for a moment, as both sides accept their exemption from military service, we could say that there are sectors in Israel whose principles are recognized by the state, while other sectors have no principles according to the state.

The State of Israel is having trouble thinking in terms of universal rights and duties, and like in feudal states, it makes up different laws for each sector. Instead of creating one path for each of the state's citizens, which would allow them, according to its needs and according to their needs and principles, to serve the state in a variety of ways—military service, institutionalized civil service or community service according to needs and skills—it grants privileges based on political and cultural considerations. It exempts all yeshiva students, whether prodigies or not, as "Torah study is their main occupation," but doesn't exempt secular prodigies. It exempts righteous women who have no problem working with men in the business sector but cannot work with men in uniform under any circumstances.

The result is that the sacred principle of modern democracy—equality in the eyes of the law—is undermined. Moreover, this policy gives unreasonable power to the leaders of the exempt communities, who are the only ones who determine what is reasonable for women (to serve as an educator) and what is unreasonable (to serve as a combat soldier).

Back to the issue I began with: In an egalitarian system, there should be room for conscientious objectors, regardless of the sector they come from. This right should be personal rather than sector-based, and the state should be able to offer alternative ways to serve which do not contradict the conscience of people who oppose certain acts according to their world view. Most of the state's citizens, for example, are not against slaughtering animals for eating purposes. There are a few people whose conscience won't allow them to kill an animal. It would be illogical to force them to work in a slaughterhouse.

I know that the problem of people refusing to serve in the territories is perceived as political rather than conscientious. It is perceived as a refusal to accept the majority's political decision, unlike the refusal to serve in the army for religious reasons, which is not perceived as political. In my opinion, that distinction is wrong. Every civil refusal based on a fundamental stance is both conscientious and political. A refusal to serve in the territories for conscientious reasons is no different from a refusal to serve in the army due to the norms of a certain community. The secular conscientious objectors should be allowed to live in peace with their conscience.