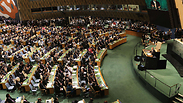 UN General Assembly
Photo: AFP
The leader of the Boycott, Divestment, Sanctions Movement (BDS) has praised a report this week by a Beirut-based UN agency that promotes development in Arab countries for concluding that Israel established an "apartheid regime."
Omar Barghouti said Thursday that the report published this week by the United Nations Economic and Social Commission for Western Asia, or ESCWA, could be the "very first beam of light that ushers the dawn of sanctions against" Israel.
The report—entitled "Israeli Practices Toward the Palestinian People and the Question of Apartheid"—has drawn swift criticism from the UN and Israeli officials.
Israel's Ambassador to the UN Danny Danon harshly attacked the report. "The UN Secretary-General must categorically denounce this lying report. The attempts to discredit the only democracy in the Middle East are shameful and shocking," he said.
"It is not surprising that a committee that stands at the head of calls for boycotts against Israel and compares Israel to the most horrific regimes in human history publishes a report like this."
Israel's Foreign Ministry spokesman likened the report to Der Sturmer—a Nazi propaganda publication that was strongly anti-Semitic.
Barghouti is the co-founder of the BDS movement that promotes boycotts against Israel.
UN spokesman Stephane Dujarric said the report was published without any prior consultations with the UN Secretariat.