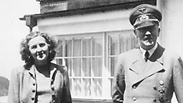 Hitler and Eva Braun
Photo: German Federal Archive
An album containing never-before-seen candid photos of German Nazi party leader Adolf Hitler and party members was auctioned on Wednesday. According to the New York Times, the album was sold for $41,000 to an unidentified bidder.

The photo album was found in April 1945 in the bedroom of Hitler's longtime companion Eva Braun.

"The pictures are very personal," said C&T Auctions consultant Tim Harper, who noted the item was owned by an unnamed collector.

The auction took place at Royal Tunbridge Wells, a town in Kent, England.

Harper explained that Hitler kept tight control over what information could be released publicly in order to protect his image, and that of the Nazi party.

"Hitler's image, particularly his photographs, were controlled. They had to be approved," Harper explained.

Gesturing toward the album, Harper said, "The shots you are seeing in this album are natural, relaxed, a number of them are amusing and almost certainly they would not have been allowed to be published. They are quite revealing."

The photo album includes images of Hitler alongside other leading members of the Nazi party such as Joseph Goebbels, Hermann Goering and Heinrich Himmler.

It also features photos of Hitler traveling in his motorcade past crowds of people cheering and saluting them. One of the images shows Hitler smiling next to a group of cheerful children. Photos of the Swastika symbol are seen in many of the photographs.

"They had to be taken by someone who had clearance to get close to the Fuehrer and close to that inner circle," Harper said.

The album was discovered by British photographer Edward Dean and English broadcaster Richard Dimbleby, both of whom entered Hitler's bunker in April 1945.

"A Russian soldier, very obligingly took them round and they broke into a room which was Eva Braun's bedroom and the Russian soldier prized open her draw and got the album from there," Harper said.