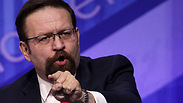 The Forward reported on Thursday that US President Donald Trump's counter-terrorism adviser Sebastian Gorka is a formal member of a far-right Hungarian group known as Vitézi Rend.
The Hungarian party was founded in 1920 by former Hungarian nationalist leader Miklos Horthy. Horthy collaborated with the Nazi regime and was responsible for the deportation of hundreds of thousands of Jews after the German occupation of Hungary in 1944.
According to the report in The Forward, Gorka belongs to a reincarnated version of the original party, which bases its ideology on their nationalistic, often racially biased tenants.
Gorka had apparently not responded to any attempts at contact.
Bruce Einhorn, a retired immigration judge who now teaches nationality law at Pepperdine University, told The Forward, "His silence speaks volumes… This is a group that advocates racialist nativism… It's a material fact that, if disclosed, would have provoked a significant inquiry into the specific post-war role of this organization and Gorka's activities in it."