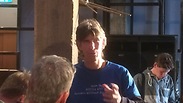 Yisrael Haas
Photo: Andrew Friedman/TPS
At the beginning, Yisrael Haas's running career had nothing to do with Israel-Palestinian relations, politics, or any other geo-political issue. He had started running cross-country as a teenager, continued during his IDF service and kept it up as he began a career in marketing in order to keep in shape. As far as hobbies go, it was cheap and an exhilarating way to get his exercise in and clear his mind after a day at the office.

Then Operation Protective Edge broke out in the summer of 2014, putting a majority of Israel's citizenry in range of Hamas rockets, igniting a large-scale military offensive against Hamas targets in the Gaza Strip and putting Jewish and Arab communities on edge throughout the country. Tensions rose quickly when Palestinians kidnapped and murdered Eyal Yifrah, Gil-Ad Sha'ar and Naftali Fraenkel in Gush Etzion, and Jews responded three weeks later, killing Arab Jerusalemite Mohammed Abu Khdeir.

"After that, there were gangs roaming the city shouting death to Jews or death to Arabs—depending on the group, of course. There were physical attacks, of course, and I knew I had to do something to try to lower the flames. So I found a partner by the name of Shoshana Ben-David, and we simply started making phone calls to the few individuals we knew in Arab communities in eastern Jerusalem to gauge their reaction to a Jewish-Arab running club. Reaction was slow at first, but within a year we were running," Haas told TPS.

Since then, the project, called Runners Without Borders, has attracted 60 members from neighborhoods around the capital: German Colony, Talpiot, Ras al-Amud, Jabel Mukaber, Abu Tor and farther afield. Participants in the men's group are split roughly evenly between Jews and Arabs; recruitment of Arab women runners has proven difficult. Friday, 30 members of the group will participate in the Jerusalem Marathon, with runners competing in the 5- and 10-kilometer and half-marathon races.

As for the teenage group, for runners aged 16-19, Haas said the opportunity to run together and connect speaks for itself and provides a natural bridge across the conflict line. Apart from twice-a-week training sessions, the teen group has traveled to participate in races in London, Berlin and Milan, in addition to the past two Jerusalem courses. With little marketing, crowdfunding campaigns on the Indegogo platform have raised about NIS 400,000, in addition to funding grants from the US embassy in Tel Aviv, the Consulate General in Jerusalem and several charitable foundations.

Asked about the politics of overseeing a mixed club, Haas, who speaks Arabic, said the issue has barely come up, if at all. He said he has not encountered any pushback from community elements in the Arab sector against "normalization" with Israelis, and added that in his experience, more and more Arab residents of Jerusalem are becoming interested in applying for Israeli citizenship. Without divulging details, he said he is aware of a community group in one Arab-majority neighborhood that is considering running a party list in the 2018 municipal elections for the Jerusalem City Council, a phenomenon he believes is both more common than many Jews understand and growing quickly.

A bigger challenge is communication. Few of the running Jerusalem Arabs speak Hebrew well enough to communicate fluently, and even fewer Jewish residents speak Arabic. But both sides have resisted attempts to bring in a translator, preferring to struggle and use the words they do know, learn new words and figure out creative ways to communicate.

"In contrast to team sports, like soccer, running is a neutral field on which to meet because you are really only competing against yourself, not against other runners," Haas said. "Our goal is to emphasize the fitness and skills of running. After that, of course, we aim to lower the flames between the sides. By attracting people who are already into sports, participants already have some common ground to share. Then they can develop friendships.

"So on one hand, the group is absolutely not political. On the other hand, you could look at what we are doing as the most subversive type of 'politics'—changing attitudes and building relationships. Once you've got those things, the bonds are far stronger than any political conflicts," he said.

Article reprinted with permission from TPS .