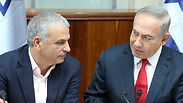 Kahlon (L) and Netanyahu
Photo: Alex Kolomoisky
Netanyahu apologizes for off-color remark on Mizrahim, says he feels 'connected' to all Israelis
After explaining that he had reacted rashly in his fight to block the launch of the new public broadcasting network because of his 'Mizrahi gene,' the PM tweets an apology, saying that he holds a sense of connection to all parts of Israeli society.
Prime Minister Benjamin Netanyahu apologized on Friday for telling Finance Minister Moshe Kahlon (Kulanu) "my Mizrahi gene got activated" during a dicussion they had over possibly postponing the launch of the Israel Public Broadcasting Corporation (IPBC).
Netanyahu has voiced his strong opposition to the IPBC, which is set to replace the Israel Broadcasting Authority (IBA), over what he feels are the corporation's left-leaning inclinations. After Kahlon asked him on Thursday why he became is irate and demanded, then retracted a request to postpone its launch, Netanyahu replied that it was due to his "Mizrahi gene."
"I apologize for my comment from yesterday," tweeted Netnayahu on Friday. "I did not intend to hurt anyone. I am connected with every fiber of my being to all sector of Israel and cherish their substantial contribution to the legacy of our people and the building of our nation."
The comment, and Netanyahu's apology for it, come on the heels of his request from Kahlon to support a bill that would grant the government total control over public broadcasting. "You're not reallty interested in public broadcasting, but in control," Kahlon told Netanyahu. "You have to understand that I have left the Likud. You're not going to pull these stunts with me. When the going gets rough, you disappear, and when there are rewards to reap, you appear."