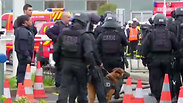 Orly Airport following incident
Photo: Reuters
French police reported that a man was shot to death early Saturday after trying to open fire in Paris' Orly Airport.
Paris police are investigating whether an attack on a soldier at Orly Airport is linked to a shooting earlier Saturday north of Paris. The Paris police office says a man fired at police officers with a gun that fired birdshot, wounding one in the face, when stopped for a police traffic check early Saturday morning. The man then fled, threatening a motorist with a weapon to steal her car, which was later parked found close to the Orly Airport.
The soldiers positioned around the airport are part of the Sentinel special force installed around France to protect sensitive sites after a string of deadly Islamic extremist attacks.
The Paris prosecutors office says the suspected attacker killed at Orly Airport after trying to wrestle away a soldier's weapon was 39 years old and was known to police for robbery and drug offenses. Prosecutors did not disclose the man's name but said he was born in 1978 and nine unspecified infractions on his criminal record.
A police source said that the man was the same individual who had shot at security services earlier in the morning north of Paris and was a radicalized Muslim known to authorities. "A police road check took place in Stains (northern Paris) this morning at 07:00. It turned bad and the individual shot at the officers before fleeing," one police source said.
"This same man—a radicalised Muslim known to intelligence services and the justice system—then took a Famas (assault weapon) from a soldier at Orly's southern terminal ... before being shot dead by a soldier."
After initially canceling all flights at the airport, flights are gradually resuming in the wake of Saturday's attack.
French President Francois Hollande issued a response to the incident, praising the courage and efficiency of troops and police.
Hollande reaffirmed the state's "determination to act without respite to fight terrorism, defend our compatriots' security and ensure the protection of the territory."
He added that the Sentinelle operation—about 7,500 troops patrolling on the country's streets and sensitive sites due to concerns over radicalized Islamism—has proved useful in addition to police forces.
Police initially evacuated part of the airport and warned visitors in a tweet to avoid the airport while the police operation was underway. After sweeping the area, no detonation devices or bombs were found.
The shooting came after a similar incident last month at the Louvre Museum. France remains under a state of emergency.