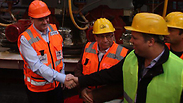 Katz at the ceremony marking the start of work on the Red Line
Photo: Motti Kimchi
Golda, the Tunnel Boring Machine (TBM) that is currently digging through Gush Dan to make way for the Red Line Light Rail, is quite the beast: 115 meters of steel, 7.5 meters in diameter, 900 tons of feisty mining capabilities. Each TBM costs a cool $60 million.

So far, 140 meters have been dug out, with Golda already reaching central Tel Aviv. Despite concerns that the work would disturb the above ground train tracks—which caused construction to stop the trains from passing over it for several days—the underground work has not been felt above.

Transport and Road Safety Minister Yisrael Katz (Likud), which took the underground tour together with Yedioth Ahronoth, confessed that "for me this is a dream come true, to take a project that was stuck, with concessionaires who weren't doing anything, and make it happen." Attempting to speak over the noise of the drilling, he added that "this is a hugely historic project. The pioneers drained the swamps, while today's pioneering is expressed through mass transportation through the State of Israel. Every meter that is added to this tunnel only proves this point. This train will be monumentally beneficial to all Tel Aviv residents and tourists. In the meantime, Golda is moving forward and I'm right behind her."

The rail way system is due to begin operations in October 2021. "I'm confident that we will meet this deadline and possibly even finish earlier," said Katz. He admitted that there is a possibility that the project will be completed under someone else. "You never can tell with projects like this. A minister needs to know how to push for things even when he knows there's no chance he will be overseeing its inauguration. I aspire to change history, I don't care if I'll be the one to cut the ribbon."